House of Cards? More like House of awesome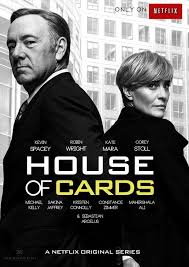 When House of Cards premiered in February of 2013, there were high expectations. Since it was only available on Netflix, there was plenty of speculation about how wide of an audience it could reach. Could it keep up with shows like Breaking Bad?
House of Cards more than met expectations. In 2013, House of Cards became the first ever online-only series to receive award nominations when it was nominated for nine primetime emmy awards.
The show's producer, Beau Willimon, said in an interview with Hollywood Reporter, "This is the future, streaming is the future. TV will not be TV in five years from now… everyone will be streaming."
The story follows the fictional congressman Frank Underwood, played by Kevin Spacey. After being passed up for Secretary of State, Underwood goes on a mission to ruthlessly gain power in the white house. The mysterious and, at times, alarming ways in which he goes about gaining power are thrilling and intense. There are haunting lies along with multiple murders and marital affairs.
Frank's mission is to one day rise to become president. Attempting to go from House majority whip to the leader of the free world is quite the leap, yet by doing things no other man will do, Frank is able to make leaps unlike any other politician.
The supporting cast is fantastic. Kate Mara does a splendid job in season one as a young, ambitious journalist named Zoe Barnes. The evolution of Frank as a power-hungry politician ties in directly with his relationship with Barnes. Robin Wright plays Claire Underwood, Frank's wife who runs a non-profit organization and plays a great role in Frank's rise.
It's a great series that shows how cutthroat the "real world" can be. Viewers can feel their own hearts racing faster as Frank dares to risk it all in order to rise to power.

The third season of House of Cards will be available on Netflix on February 27th.