Where Art Meets Food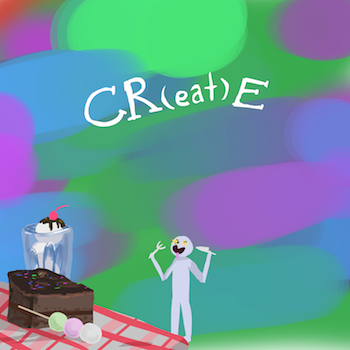 Oh the beauty of crafts! Without them the world would be a little less colorful. Oh the beauty of foods! Without them we wouldn't have taste in our lives; or even have lives to begin with. Ames High's club "Cr(eat)e", pronounced create, experiments with both of these vibrant categories.  
The club is pretty much FCS and art class put together. The students get together and talk about what they are going to create/cook for that week, whether it be a paper mache mask for Halloween, pumpkin pie, puppy chow, or simply putting beads on a stick.
If you've had a foods class at Ames High, then you'll probably have a ballpark figure of what the food portion is like. The catch, foods are chosen on an international standpoint. The students put together a sort of "global cuisine" to capture the taste of foods from many different parts of the world.
From Brazil to India to Spain to China, research is done on foods from whichever areas the students choose and then the baking begins. "Creating an awareness of other cultures" Mrs. V said, is one of the pillars behind the club's reason for existence.
So to anyone that tunes out, understand that you're missing out on some neat stuff with cr(eat)e; and especially missing out on some amazing food.
Cr(eat)e meets most every monday after school in the tasty aromas of room 17.