SHOGUN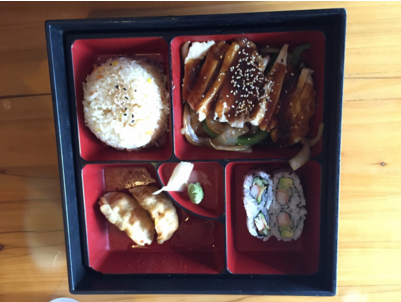 Ames has many delicious places to eat. I for one would like to call myself a cuisine expert. My eating is not only a necessity, it is a hobby. So when I say go to Shogun, you should consider going as soon as you finish this article.
Shogun is a Japanese style restaurant found in west Ames by Hy-vee. When you walk in you feel immediately at home, with comfy seating and adorable decorations. The staff is extremely small but kind and efficient. The atmosphere is always calm and inviting. There is rarely more than a few tables filled.
Their menu is expansive with options for Bento Boxes (dumplings, rice, sushi, tempura vegetables and meat with vegetables) to sushi. Possibly their best deal is for lunch, two rolls for $7.50 or three for $9.25 with miso soup or ginger salad. In my opinion the best thing on their menu is the Crazy Roll. It's mouth wateringly delicious. A sushi roll deep fried covered in eel sauce and spicy mayo.
I enjoyed the laid back and quiet atmosphere, low prices and the fantastic product.  Certainly, if you haven't eaten a crazy roll or sampled their fried rice you are missing out on a meal of a lifetime.