What is iBall?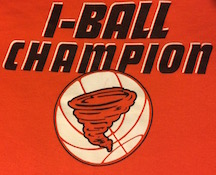 As we get closer and closer to Christmas everyone seems to get a little more excited each day. Some, including myself, get excited for reasons other than winter break and christmas. We get excited because iBall season is approaching.
If you're new to Ames High, or just don't know what iBall is, allow me to enlighten you. iBall is the single most exciting and fun activity you can participate in here at Ames High. You get together with a group of friends to form a basketball team in either the Freshman-Sophomore division, Junior-Senior division, or the girls division. Teams range from former basketball players who are gunning for the championship t-shirt, to people who are in it just for the good times.
iBall welcomes all kinds of players and it's a ton of fun. Don't take it from just me though, senior iBall player Tavan Shahidi said, "People should join iBall because it's a dream come true. I was like a real life Jackie Moon." Plus if you join, you get to showcase your hidden talent "I joined iBall so I can use the skills I've learned from playing 2K to break ankles and embarrass people, weekly." Shahidi said.
So don't be afraid to get together with some friends and play iBall. Like Shahidi says, "The games are great because they're so simple for beginners and they're not difficult at all." There you have it, get out there and play iBall.