If you're reading this it's (not) too late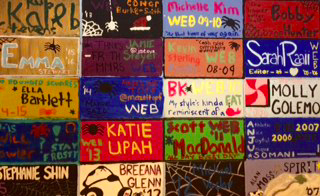 It's Wednesday afternoon. You slump aimlessly into your homeroom class and are met, yet again, with the empty feeling of no one volunteering to bring treats. It isn't looking good, but all is not yet lost. Soon enough, a bright and shining face walks into the room and rocks your world: it's one of Ames High's agents of journalism, otherwise known as a WEB staff member.
One may argue that The WEB is a lifestyle. It's a class; it's a club. We use fancy things like semi-colons to show our deep understanding of the English language and its grammar mechanics. We get it, we get it. You want to know how you can get into such an elite group of students dedicated to churning out quality articles to readers every month without fail. Regrettably, The New York Times was kind of busy and isn't an available elective at Ames High so you're stuck with us!
There are many reasons why joining The WEB will have a positive impact on your 2017-18 academic year. If you are interested in journalism or writing in any capacity, this class allows you to explore those areas in a different way than a typical English class would.
Unlike assigned topics in most classes, The WEB allows you to write about anything from OJ Simpson, to the best fries in town. All you have to do is make sure you turn that piece of writing gold into Canvas on time and DJ will be eternally grateful. Oh, yes. If you didn't already know, Mr. Johnson doesn't exist in here at The WEB. It's DJ, folks. Rookie mistake.
The normal cycle of publishing a WEB issue can be broken up into a few categories: story ideas, writing/interviewing, editing, newspaper layout, and distribution. Many of the skills aforementioned are not fully exercised in other classes, allowing for immense growth in communication and leadership abilities.
Another exciting part about being in The WEB is the option of being either a reporter, a section editor (In-Depth, Profiles, Campus Life, Academics and Arts, Reviews, Opinion), the print editor, the online editor, or a co-editor-in-chief. These unique roles allow you to take responsibility and ownership for your ideas and be recognized for your creative work.
"The WEB is more than just a newspaper. It's a home. Through my two years here, I learned to speak up for myself and express my opinions whether everyone agreed with them or not. Journalism is so rewarding and I encourage anyone with a passion for writing to stop silencing their voices and instead write them here on The WEB", expressed senior co-editor-in-chief McKenzie Reimer.  
Unlike papers for other classes, WEB articles are not graded harshly on analytical skill, sentence structure, or use of literary devices. It is an elective for a reason- it should be fun, you should learn something, and through research and interviews you will become a better writer (without the pressure of a meticulous and impossible rubric). Find a story. Carve out your angle. Sculpt it. Fire it. Be proud! Repeat.
Showcasing your writing for the whole school to see may be intimidating at first, but the sense of accomplishment when someone stops you to say, "Hey, I read your article! It was great!", is a reassuring confidence booster that will drive you to write even more.
"The Web has made me realize I could have a future in Journalism, and it could do the same for you", said junior reporter Sam Stuve.
If nothing else, join The WEB for the witty banter, the supportive atmosphere, and DJ's (Darin Michael Johnson, our fearless leader) romantic ambient lighting. The voices of Ames High are strong and many. They must be heard. Go to your counselor as soon as you can and sign up, because journalism waits for no one.