Our Bae Aniey
Running is an experience so physically and mentally taxing few students can claim to have participated in any form of this sport. However, freshman Aniey Akok manages to defy all expectations.
Taking part in both cross country and track, Aniey began running as a 6th grader and hasn't slowed down since. Don't let his easygoing personality or frequent jokes fool you–as soon as he sets foot onto the starting line, Aniey Akok is a not a force to be messed with.
Just as a freshman, Akok is already making big waves in the running community. Traveling to Lawrence, Kansas over the summer, he participated in a national level competition. "I did pretty good," said Akok, somehow remaining humble. "I got third place. 4:36 mile."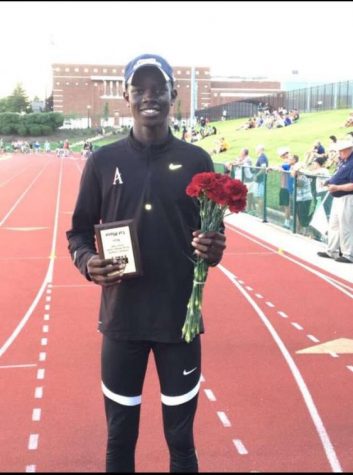 Akok shows no signs of stopping this streak as he capped in over 500 miles this summer. He was also lucky enough to be invited on an exclusive weeklong trip to Colorado with the rest of the Ames High Varsity Cross Country team. "We got to know each other," said Akok. "Going on long hikes, working together, and you know, becoming better teammates." Speaking very highly of both Mr. Mooney and Coach Deau, Akok attributes a large part of his success in running to their guidance. Having known them before coming to the high school and sculpting a close bond with both of them, Akok might not be the runner he is today without their help.
Nevertheless, Akok plans to slow down and enjoy the many other opportunities provided by Ames High School. Although currently not in any clubs, he is excited to try his hand at DECA and SACRE. "I want to be known as a nice outgoing guy," said Akok. "Friends with everybody." Everyone should should do their best to follow up on Aniey's own advice and stop him in the hallway for a chat. That is, if they're able to catch up with him.