What are sports?
Students were met with decorations of orange and black on Sept. 12, commemorating the coming football game against Ankeny Centennial. Little do the Little Cyclones realize, but the decorations symbolize so much more than just football–they represent a united student body. Maybe that's the true meaning of sports, a way for students to unite under t-shirts of black and orange.
It's hard to dispute that sports bring us together, whether it be a friendly game of golf or an all-out brawl of croquet. Some might say it's the atmosphere that brings us close: the audience cheering for their home team while trash talking the opponents. Others disagree, believing that the close proximity sports bring us is purely because stadiums are too small; some even cite instances of claustrophobia. Frequent Claustrophobes Anonymous attender Tyler Wessels has mentioned times when he has had difficulty breathing during sporting events, which is surprising for this all-around sports star.
"What kind of sports can Ames High look forward to this season?" asked semi-intrigued senior Charlie Fei. Only the best kinds, Charlie, only the best.
Anyone keeping stats over this fall's cross country performance should know that the girls have been doing well, boasting a rather hefty win rate of "pretty good." The boys have been placing high in the standings as well, despite senior Daniel Lee's discontent with his recent performance. When asked how his first meet went, senior Lee said " I don't know, it was hot or something." The heat could not contain senior Wessels however, as he broke his personal best, with an astounding fifteen minute 5k.
As cross country and swimming go hand in hand, this article would be incomplete and unprofessional without a nod towards this year's girls swimming and diving.  Girls swimming has so far won every year Spence has been principal, proving that correlation does in fact prove causation. In hopes of winning yet another title, senior Jessica Misra–famous for her 400 meter doggy paddle–commented on the year with "I don't like having my hair wet, and I'm a diver." Wessels, the undisputed moral captain of the girls swim team is reportedly proud of their success. Having just swam for the first time in his life, when asked his opinion, he humbly commented "That's what swimming is? Well GG easy."
As the leaves begin to fall, you might notice some students in your class slowly falling into the time abyss that is golf. As time consuming as it is, golf compensates by being both spiritually fulfilling and expensive. Apart from merely buying the dozen golf clubs needed to play a round of golf, the boy's golf team has also splurged and bought themselves a private golf cart driver in the form of Wessels. Even though he'd much rather drive his Toyota Camry, Tyler graciously took the offer when he learned he would be paid in Forever 21 coupons. Classic–no, vintage Wessels.
While it is no longer a question that sports bring students together, we are inexplicably left with one more… "How is it that Wessels is able to perform so well in his sports activities while keeping his coveted silver elo in League of Legends?" It truly is a mystery.
Leave a Comment
Your donation will support the student journalists of Ames High School, and Iowa needs student journalists. Your contribution will allow us to cover our annual website hosting costs.
About the Contributor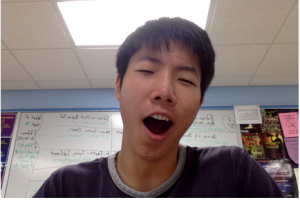 Hill Wang, Reporter
The mysterious circumstances surrounding Hill Wang's birth are relatively unknown, but what we do know is that he was raised by honey badgers. After...