Disc golf gains popularity at AHS
As the school year came to a close, thousands of high-schoolers, college students, and dogs alike flocked to the Carroll Marty disc golf course. Disc golf, commonly called "frolf", or frisbee golf, is quickly becoming one of the fastest growing sports in the nation. The Ames disc golf scene is especially popular, as the city possesses two high-quality courses in Carroll Marty (in Gateway Park) and Stable Run (on 13th St).
While disc golf is most popular among college students, several Ames High students have taken up the sport recently.
"There's not much to do in Ames, so disc golf is one of the only things you can do," senior Hunter Prueger said.
Disc golf stud Tyler Wessels said that he plays "to get all the ladies."
"Chicks dig aces," explained Wessels as he effortlessly bombed a 400 foot drive off the tee.
The similarities between disc golf and regular golf are obvious, as the rules of disc golf are derived from its namesake. Basically, players throw discs off a tee, and try to get the disc into the hole (which is a basket) within the par number of "strokes".
However, some players have different thoughts on how the game is played.
"Disc golf is ridiculous. You know the thing, it goes in the trees, you go get it and get poison ivy, and then throw it again, and it goes past the thing you're supposed to get it in, and it just takes too long. Ridiculous," says senior Satchel Bruna.
There are several places around Ames where one can purchase discs. While stores like Wal-mart and Jax Outdoor Gear sell discs, there are certain stores that specialize in disc golf gear.
Seniors Chris Stoker and Paul Hadish (founders of the AHS Disc Golf Club) claim that Bike World is the best place to shop for equipment.
"It simply has the best collection of discs," said Stoker.
Though the courses are free to use, disc golf is not an especially cheap sport to play. Each individual disc can cost up to 20 dollars, and the discs are in constant need of replacement. Writing one's name and number on their disc is a common practice in this sport where players form bonds with their most reliable discs.
"The first disc I ever bought was a Cyclone, but a few months ago I lost it, and I feel awful to this day," says a teary-eyed Paul Hadish. For many, disc golf is not just a sport, but an essential part of life.
Leave a Comment
Your donation will support the student journalists of Ames High School. Your contribution will allow us to purchase equipment and cover our annual website hosting costs.
About the Contributor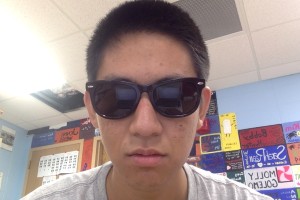 Charlie Fei, Entertainment Editor
Charlie Fei is the definition of beauty. A fun fact about Charlie is that he doesn't speak English. He's learning, but his brain is too scattered with...