A Beautiful Mess: Learning to Listen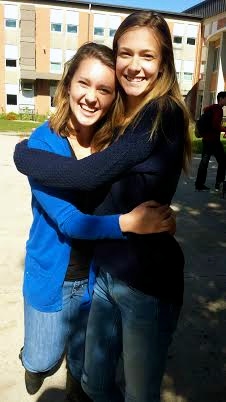 We hear people every day. Casual conversations, lunch time banter, and even homework discussion. Sometimes we just go through the motions, and respond with an automatic "Haha yeah." and carry on our way. Words and noise surround our days at AHS, but are we really listening?
Claire Dupuis is a junior known around Ames High for giving her best 100 percent of the time and being a genuinely wonderful person. I knew that she is a runner, and there have been times when I would want to get together do something and Claire would respond "I can't, I'm sorry! I've gotta run."
"You've got to be kidding me. Not again."
I would laugh it off and not understand why she just couldn't run another time. I've never heard Claire complain, and I admire her dedication to becoming better every day. Dupuis is humble and had never really vocalized to me why she was so interested in running and that added to my blindness of seeing her true passion.
Over the summer Claire noticed a pain in her hip and was curbed from her typical training. After physical therapy and multiple visits to the doctor, Claire found out that she had to get hip surgery. This surgery would take her out of the current cross country season and include a 6 month recovery period. Even with this heavy load, Claire never asked for anything.
Coach Schmaltz meets his team at Brookside every pre-meet practice. He pumps the group up by giving an inspirational speech with themes important to him and the girls. At Brookside prior to Claire's surgery, Coach Schmaltz whipped out a few papers. It was a piece Claire had written about the power running had for her and how she feels most at home while running.
I had been hearing Claire talking about running for years, but I had never really listened until that afternoon. The eloquence of her words and the passion that came through when her composition was read; I finally understood. It had taken me years to finally listen.
I had been ignorant to the real depth of Claire's story, and I can't help but think about all of the other interests and passions that I have been missing. How many times have I brushed off an encounter with a new acquaintance so I could rush off to the courtyard, or even how many times had I turned away from a conversation because I felt like I 'had' to get somewhere else. Or even how many times had I missed a hidden story or idea from one of my closest friends, just because I was so used to their company that I didn't think anything more could be said.
I challenged myself to dig a little deeper and get to know the real stories and the passions of people that I talk to. I'm learning how to listen again.
Take sometime to ask different questions, approach new people, and give extra time in your day to listen. You don't know what you're missing.