Anyone can get hacked, even me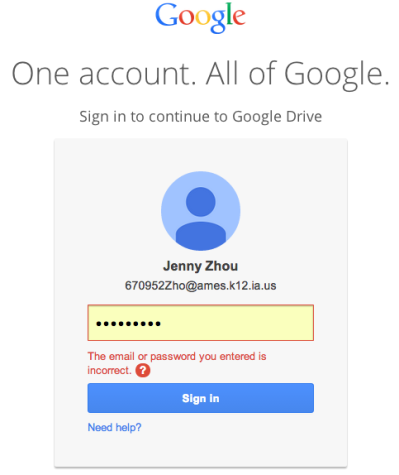 On Saturday, October 11th, my mind was occupied with multiple choice questions and math formulas from the SAT. Little did I know that my life was being invaded in a way I had never imagined. Earlier in the autumn months, I had read and written about celebrities who had been hacked. Never had I thought it could happen to me. Yet the evening a day later, I realized I couldn't access any of my e-mails, Tumblr, or my Skype accounts.
The first realization I had was my school Gmail account was compromised. I was trying to log into Google Drive to work on a speech for Spanish class, but then found I couldn't access the account at all. I figured the school had reset my password and I'd get it fixed the next day. I went to bed with little to no alarm.
Part of my morning ritual is to check my e-mail on my phone. When I woke, I found that an error message had popped up. "Please enter your password". Yahoo! did this to me often and I barely noticed that it was strange. However, I had just changed my password a week ago and it wasn't working. I checked my tumblr, and I had been logged out. I attempted to log into Skype, but found I had been logged out of that as well.
Now I was alarmed. I opened my laptop to do a proper investigation of what was happening. Then it dawned on me: my electronic life had been invaded. If any of you, readers, have been on Tumblr, you know that there are some strange people on there. One of those was my hacker. Prior to this course of events, I had stopped speaking to them because though we were friends, they were behaving strangely. This had apparently triggered him to decide to make an attempt at "ruining" my life.
The process of getting my accounts back was a long and tedious one. I had to make several new e-mail accounts just to contact the customer services of many companies. Calling Yahoo! had no effect, as I was put on hold every time. I was able to get my school e-mail back through our librarians who were very helpful in the process. My Tumblr has been permanently deleted and my Skype accounts are still gone.
But the repercussions of the stuff that happened aren't what worries me. It's the fact that anyone, even those who may seem like they're completely normal, can victimize someone and decide to invade their privacy. I initially met my hacker on Tumblr. He was seemingly nice and we occasionally messaged each other back and forth. The messages seemed to get weirder and weirder, and he started to ask more and more personal questions. At this point, I cut off the communication and left it at that.
The possibilities of what my hacker could have done are endless. They could have impersonated me, done further harm to my e-mails by deleting all my college application information, and far more than I can imagine.
In 2013, Forbes released that over 30,000 websites are hacked a day. That alone is an overwhelming statistic, and recent stories about celebrities have made me realize that just about anyone can get hacked. The next time my mother tells me to be careful of what I say and do on the internet, it'll probably be wise for me to listen more carefully.