John Kim: Ames High Legend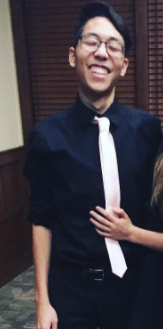 There are two sides to John Kim, the annoying Junior that is an aficionado at making weird noises and the soft side that I fell in love with. Since I first met John Kim my freshmen year I was convinced I was going to marry him. John Kim is a junior heartthrob that deserves more recognition for the amount of effort he puts into his hair daily. Achieving the perfect hair quiff isn't easy but John Kim makes it look effortless. I would also love to shed a light on the great glo-up that John Kim went through this summer. Not only did he trade his sweatpants for Khakis, he also started on a daily workout regime comparable to non other than Michael Phelps himself.
I have learned that there really is nothing John Kim can't do. He is a three-sport student athlete that also dabbles at being a low-key genius. Every spring, John is forced to make the difficult decision of picking which sport to join. Having played Tennis and Soccer all his life, John decided to also dabble in Track this spring. Despite his wide skill set, John will eventually settle for playing one of the top seeds in Varsity Tennis. It's not that john lacks sportsmanship but rather he believes greatness deserves recognition and gets petty when it is ignored.
Academically, John is ahead of his grade in every subject. Even though he is also in many clubs/activities, John is still able to make it all work and excel greatly.  John makes this amazing feat look easy as there really truly is nothing he can't learn and perfect in one night.  In his free time, John loves spending it on adventures at Iowa State. John is notorious for studying at ISU every night from 12am to the crack of dawn. If you ever find yourself at ISU at 3am, JK is your boy.
John is impressive. He deserves to be recognized for all that he is and all that he is going to accomplish.