Westworld
Usually around this time of year as the temperature drops and finals coming up I fall into a winter induced state of melancholy. I became desperate for some sort of new fix that could entertain me. So I figured I should start watching a new show on Netflix. But after browsing Netflix for a hour I found nothing that grabbed my interest. Finally I remember one of my friends told me about Westworld. It sounded interesting so I logged on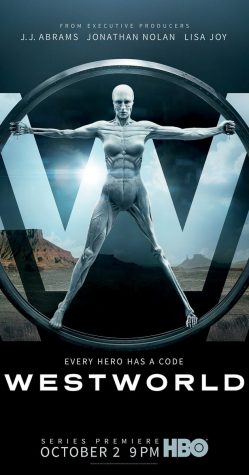 to HBO now and got my one week free trial and started watching it.
The show is about a place called Westworld. It is like Jurassic Park but instead of dinosaurs it's super realistic robot people. The Robots are called hosts and populate the wild west themed park. Guests pay large sums of money and go to the park and can live without limits. Whether they want to visit a brothel, shoot random civilians, or do quests to the outskirts of the map. The hosts a not supposed to hurt real people or be aware they are robots. But weird things began to happen in the park.
The show has a all-star line up of executive produces including J.J. Abrams, Jonathan Nolan (Interstellar, Dark Knight, Memento) and Lisa Joy. The show is fast paced and very enjoyable. I like how the show makes the viewer keep guessing. Every episode the show introduces new plot lines that change the way we think about different characters. Also the show has beautiful cinematography. It is a great show to binge watch, because once you finish one episode you need to watch another. The show is definitely intended for mature audiences, but is very good for any one looking for an intense drama to get through winter.
Check out the trailer here!!