Ames High School Mourns The Loss of Social Studies Teacher Dennis Cullinan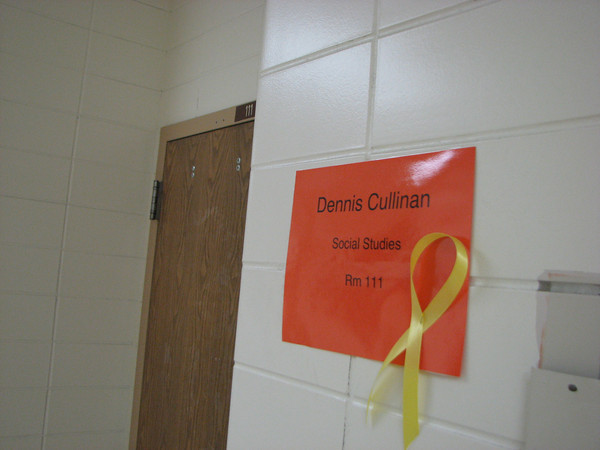 Ames High School stood still on the morning of February 25 as Principal Spence Evans' voice came over the intercom.
It was not the usual vibrant voice that Ames High students were used to interrupting their classes that echoed through the halls, but a defeated drone announcing news that many feared would come. All throughout the school, students and staff listened, wearing their yellow shirts or yellow ribbons to support struggling social studies Dennis Cullinan who had entered hospice the previous day.
But it was to all of their dismay that Evans announced Cullinan's death at 3 a.m. that morning. The shock came harsh and sudden. Was it all in vain that they had worn yellow to support their teacher? Faint sniffling reverberated about rooms as Evans spoke his part on Cullinan's untimely death. The end of the announcement was followed by utter silence.
Teachers did what they could to continue classes despite the lingering sadness in the air, but the brutal day dragged painfully on. The rest of the day was carried on with heavy hearts and yearning nostalgia in remembrance of Dennis Cullinan (1959-2011). But Denny, as many know, was an incredibly private person; he didn't exactly like to talk about himself.
How well did those grieving really know Dennis Cullinan? Did they know that he was a certified, but incredibly modest hypnotist, or that he was a groomsman at Mrs. Billings's wedding and gave her a pep-talk encouraging her to teach high school?
It's also rarely known by students now that Cullinan was the head basketball coach at several Iowa schools for 30 years. Cullinan received the Don Logan Award last year at the boys' state basketball tournament for his commitment as a coach. His basketball affiliation wasn't only invested in coaching, but because of his private and quiet nature, no one here at the school knows exactly to what ends his prowess went. What is known is that sometime in his life, he had opportunities in a basketball career.
But he didn't pursue them; he wanted to teach. Some might've called the 6'10" "social studies teacher a fool for letting go of that potential wealth to teach public high school, but many argue that it really shows his dedication to do what he loved.
"I've never known a teacher who cares more about his students than Mr. Cullinan," said senior Zack Hackbarth. "He had a true passion for teaching and learning."
Cullinan's dedication to his place at Ames High went further than many students were aware. His family lived in Waterloo, a 2-hour drive from Ames. "[Mr. Cullinan] kept an apartment in Somerset during the school week. . . It developed around the time he was going to the Mayo Clinic (in Rochester, MN) for treatment," said social studies teacher Kirsten Sullivan, a colleague of Mr. Cullinan.
The staff that enjoyed lunch with Cullinan daily said that they had seen a change in the dedication he had towards his job around the time he stepped down from coaching basketball and when he had first learned of his cancer. "He was so dedicated to being the best teacher he could be," Sullivan said.
"He figured out that [teaching] really is his love. . . he rediscovered it. He concentrated on self-improvement," said English teacher Mr. Greenlaw, who had the chance to speak with Cullinan the week of his death.  "Something happened, he became enlightened. . . he rose to fight it on all fronts."
Staff that knew him all remarked how incredible it was that he never let the cancer define him. "He never complained," said business teacher Rhonda Schmaltz.
"You know what he wanted when he heard there was probably no hope left? He wanted to get back to the school to check on his students and colleagues," Sullivan said.
Cullinan had spent the entire of last semester out of the school because of his health. Dave Duit had been filling in during his absence and was able to keep the class progressing from the detailed instructions Cullinan sent.
"I don't think enough credit can be given to Mr. Duit," said Greenlaw. "[There was] so much linkage between Denny and Dave and the class to keep the class going." Mr. Duit will continue to handle the class for what's left of the semester.
During 6th period on the Friday of his death, all students were organized into the gym for a picture with their yellow shirts to send to Cullinan's family. Tears welled up in teachers' eyes as they organized students, most of whom were probably unaware that Cullinan had once ruled that very court–but, perhaps, that is how he wanted it. Nothing could take him away from his love of teaching.
My dedication: Never before have I known someone so at peace with their own, grim fate. Denny Cullinan was one of the most enlightened, brave men that I ever had the fortune to meet. I'm sure there were days that his pain was overwhelming, but he still got up do do the thing he loved. The greatest thing he taught me was to pursue something you love and go where you will be happiest.
Leave a Comment
Your donation will support the student journalists of Ames High School. Your contribution will allow us to purchase equipment and cover our annual website hosting costs.