Sports: Pandemic Edition
Ames schools were on a two-week mandatory online schooling recently. Along with the closing of schools came the hold on sports. Can AHS sports survive this? 
The ever-changing schedules, Covid-19 in general, and the whole Return To Learn ordeal, students are bound to be stressed. Add athletics to the mix, and on a tight schedule, student-athletes are bound to be wound tight. This has been proven in a study from the University of Wisconsin School of Medicine and Public Health, where student-athletes have said, "the COVID-19 pandemic has taken a significant toll on mental health… approximately 68 percent of the 3,243 student-athletes surveyed reported feelings of anxiety and depression at levels that would typically require medical intervention."
Studies have shown that acute stress has minor implications on the body, such as increased blood pressure, hormone, and sugar levels. When these acute problems start to become chronic, larger issues can arise. These problems can be both mental and physical, such as anxiety, depression, and problems with metabolism. There's also evidence that cumulative stress often leaves the body more susceptible to injuries. 
Athletes at Ames High are feeling no different. "Mentally it's hard not to see my friends I normally get to see, especially since it's senior year," said Kate MacLeod a senior varsity swimmer. Practices aren't any easier either, with tight restrictions on the team, forcing the system of how practices work to change. Since you can't swim with a mask the team has to compensate. "It's a lot harder to work as a team in practice and do sets together when socially distancing the whole time," said MacLeod. 
The resilience of Ames High athletes shows, perhaps due to the already stressful nature of the school atmosphere, this whole corona thing is just another hurdle. 
Not just swimmers are facing difficult situations. Due to shutdowns, the football team lost about 3 weeks of practice, as well as the Homecoming game postponed till spring. With all this adversity the team still stays positive.
"There have been challenges to try to not lose growth and momentum, but Coach has been constantly preparing us to adjust to anything, which is something that the team has managed to do well to be able to keep our program moving forward," said Niko Stevens a senior varsity football player.
As for the homecoming, everyone is trying to stay positive as well, the team would've liked to have the homecoming game as usual, but you know, coronavirus. "It hasn't been a concern at all because the guys are all excited to be back and to be able to get in as many games as possible," said Stevens. 
To avoid internalizing stress how about we get ahead of this problem. Unclench your jaw, roll out your shoulders, and actually use a calendar for your schoolwork. We can make the best out of this situation, hopefully. Just relax, don't get hurt, and try to keep a consistent training schedule so we still, hopefully, come out on top. 
Leave a Comment
Your donation will support the student journalists of Ames High School. Your contribution will allow us to purchase equipment and cover our annual website hosting costs.
About the Contributor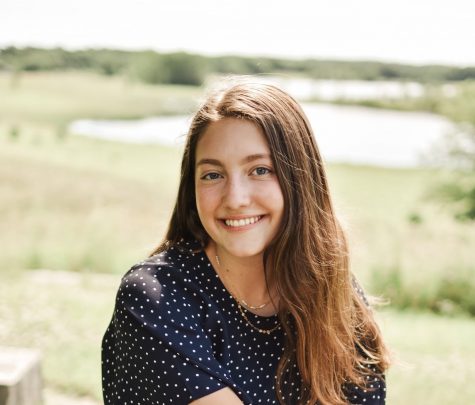 Haley Reeves, Editor In-Chief
Hello, I'm Haley, I'm a senior and I play some sports and stay at home with my dog most of the time.