Blue Zone Project Building a Healthier Ames
With Iowa ranked as the 16th healthiest state in the nation and 28% of the people within the Hawkeye state being classified as obese, there is much to be done about the state of our public health. With that goal specifically, present Republican Governor Terry Branstad has released a plan with the goal of getting Iowa to number one on these charts. " This Healthiest State Initiative will assist Iowans in learning about and applying proven methods to live longer, happier and healthier lives," Branstad said in a press release. "We control more than 70 percent of the factors that influence our health. It is within our power to make a positive difference in our lives." Enter the Blue Zone Project. A joint effort between healthcare provider Blue Cross and Blue Shield and Healthways, the project is attempting to find cities that would be willing to commit to adapting and implementing a number of key principles. Ames was one of ten other cities selected to be finalists for the $25 million allocated to fund the project. Ames will be competing against Cedar Falls, Cedar Rapids, Clinton, Davenport, Mason City, Muscatine, Ottumwa, Sioux City, Spencer, and Waterloo. The money is said to be spent "in the form of people, processes, tools and programs to help guide the community. Local staff directing the project will work in the community for 18 to 36 months depending on the complexity of the community and the work to be done." according to the press release. At the heart of the project lie 9 basic principles, which range from focusing on family and friends (Family First) to cultivating a more plant-based diet (Plant Slant). All of these are based on research done by Dan Buettner, a New York Times-bestselling author. In one instance, the costs for healthcare for a group of municipal workers was nearly cut in half and lead to better living and healthier living. Why Ames? Community leaders were joined by Ames High juniors Nolan Dickson and senior Vince Greenwald in arguing that local institutions like Cyride and the Aquatics center, as well as the community itself make Ames especially promising place with a strong commitment to better living. It is asked that pledge support by signing up at www.amesbluezonesproject.com/ or by texting "BZP" number 772937. This is to show commitment to the project and that Ames would be worth the money.
Leave a Comment
Your donation will support the student journalists of Ames High School. Your contribution will allow us to purchase equipment and cover our annual website hosting costs.
About the Writer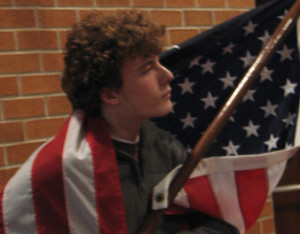 Christopher Jackson, Reporter
Christopher Jackson is a senior at Ames High School. A three-year member of the Web, he writes about student issues and has been compared alongside his...