Sam Roberts: A Very Special Man
How do you plank? Well, there's a specific form to it. Your body must be in one straight line, your arms must be flat, and keep your neck straight. Try and keep a straight face. What's it like to be in a Canadian rock band? It's pretty cool. I listen to the Sam Roberts Band in the car, and people get so confused when I show them the case. Whilst you are in the spot, what do you perchance to see? A wild Pikachu. Favorite Veggie Tale character? Mr. Lunt. He sings the cheeseburger song. Who is your preferred Freshman? Vincent Montalbano. Hands down. Over the last two years, what have you enjoyed most about high school? Sweater Thursdays. What's the best 21st century trend? Sweater Thursdays. And Edwin's Corner. When you wish upon a star, what do you dream of? To live for another Sweater Thursdays, or to plank on a Sweater Thursday.
Leave a Comment
About the Writer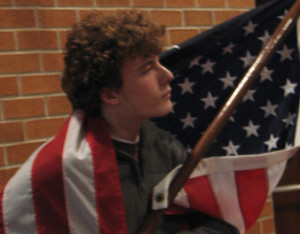 Christopher Jackson, Reporter
Christopher Jackson is a senior at Ames High School. A three-year member of the Web, he writes about student issues and has been compared alongside his...