Ames High Mock Trial Penetrates State Tournament
"Sheep go bah; screw the law!" With these words, Ames High's wildly successful mock trial program capped another eventful year as one of the teams advanced to the state tournament and placed 12th. Mock Trial, an academic competition that is run through the Iowa Bar Association, is an activity where teenagers assume the roles of attorneys and witnesses (including sheep herders, frog enthusiasts, and homosexual principals, to name some recent ones) and argue a case against a team from another school. Teams go to regionals and, if successful, move onto the state tournament. Of the 32 state teams, the overall winner goes onto the national tournament. Ames sent two teams to the regional competition and one, Team Orange won both rounds and advanced to the state tournament, held in Des Moines. Fearlessly lead by team captain Christopher "Bro-Tie" Jackson and the remarkably competent Kendall "Face" Stow, Team Orange went 2-1, coming in second behind only to Dowling Catholic's varsity team in round two and placing 12th overall. This was the first time in that Team Orange (usually made up of freshmen and sophomores exclusively) has made it to the state tournament and Team Black (made up of juniors and seniors) have not. Mock trial enthusiast Umar "Murdock" Farooq joined newcomers Naomi "BA" Peterson, Hari "Harvard" Sivaskandan, Lydia "Erudite and Wonderful" Lavrova, Sara "Hannibal" Diressova, and veteran Stephanie "Your time is up" Shin for this year's team. Farooq, a junior from Gilbert, summed up his mock trial experience as: " You get a case released by the Iowa Bar. You then pretend to work on the case for 3 months, but make all of your substantial changes the night before. The team with the most swag wins ." Mock trial newcomer Hari Sivaskandan described it as " Extremely fun. When I started Mock Trial, I was fairly quiet and didn't really have a high self-esteem. However, after joining Mock Trial, I met many new people and gained a lot more confidence in myself." Freshman Lydia Lavrova enjoyed the mock trial season because the Ames High team " Was so dashing and charming" and " We spend such a large amount of our time eating cake and talking about John Green." Willy Wu, mock trial alumni and legend, loved mock trial because " Hello Kitty is wonderful!"
Leave a Comment
Your donation will support the student journalists of Ames High School. Your contribution will allow us to purchase equipment and cover our annual website hosting costs.
About the Writer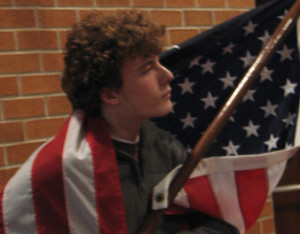 Christopher Jackson, Reporter
Christopher Jackson is a senior at Ames High School. A three-year member of the Web, he writes about student issues and has been compared alongside his...