Hard to Starboard: Style of the Titanic
The classic motion picture that inspired a terrible tragedy has become 3D! This warrants not only an easy money-making film, but a call to relive the glory days aboard an "unsinkable" steamship. As you can see in these P olyvore collages , dressing like you're First Class is classy. It also includes a much higher probability of survival once the ship, you know, has a minor disagreement with a floating ice chunk (whoops, ruined the movie). Start with an evening gown that just smells luxurious. Perhaps a velvet coat to go over. Do not overlook the parasol, flower accessories, or flamboyant English-royalty hats to truly allow your heart to go on. While you are dressed up, to stay in character, you must always expect the highest quality food items and ask people to compare you to french girls. When the time does come to abandon your lover in the freezing cold water, just remember only one can fit on the floating debris, mostly because your outfit is extremely heavy now saturated with ocean. Just keep your silver whistle polished and ready, so everyone knows you are in a higher class, because not just everyone has a whistle so melodious.
Leave a Comment
About the Writer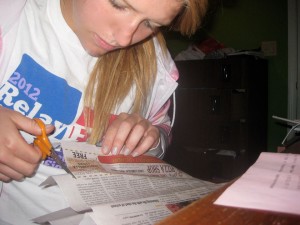 Madeline Topf, Editor-in-Chief
Mixmaster
Adorer of Birkenstocks, with or without socks
Daryl's cone picker-upper and goal putter-awayer
Eater of fine Donuts
Ligature hoarder
I...