Carr Pool will be remembered
It is the time of goodbyes, to your teachers and their classes, acquaintances whom you only talk to during the school year, and most importantly the stress of being a student. But as summer approaches and the question of "what are going to do for the next three months?" is being asked, one final goodbye must be said. To Carr Pool. Demolition will take place in the coming months. Ah, the memories. Ames' quaint but refreshing concrete hole in the ground. How it contained a high dive and slide but those were taken out because it was too dangerous. How the rough bottom of the pool sometimes drew blood from sunburned toes. And a play pool for the small children to urinate in. And whenever you say the name having to clarify you do not mean riding in the same van as a neighbor. But we must not overlook the rich history of our departed chlorinated water tub. Built by Alpha and Emmet Carr as a way to keep kids out of the dangerous Skunk River, the pool was all the rage when it opened in 1926. According the the Ames Historical Society, the Ames Municipal Band would play on certain days, along with having swimming lessons and various competitions throughout the summer. And get this- in the middle of the shallow end was a fountain! A giant fountain to climb on. How dangerous… Fast forward 70 years, and a lively debate has struck up about what to do with the pool. In the age of water slides and lazy rivers, Carr was no longer adequate. It would cost to remodel the pool as well as to build an altogether new aquatic center. Pool-going residents would travel to Nevada's Fawcett Family Aquatic Center to get their fix of deep end and mushroom fountains. Other residents did not see the need for an aquatic center, and therefore planted yard signs screaming "SAVE CARR POOL." Nonetheless, after some open forums and voting, it was decided to build a new aquatic center, Furman. The 10.5 million dollar project was completed two years ago, and has had great success in attendance. Some still held on to the idea to keep Carr in a 2010 city council meeting, where they bargained to keep the pool as an option. But it wasn't profitable for the city, and in the end it was decided to be demolished. Now, as you apply sunscreen in preparation to walk backwards up the lazy river (great exercise) just give a moment of silence to the forgotten pool of youth. Carr Pool will remain as that warm, wet place in our hearts where we will never have to worry about getting injured on the diving board.
Leave a Comment
Your donation will support the student journalists of Ames High School. Your contribution will allow us to purchase equipment and cover our annual website hosting costs.
About the Writer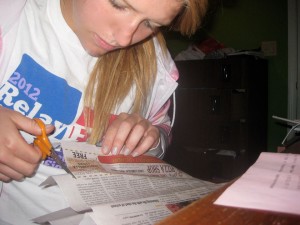 Madeline Topf, Editor-in-Chief
Mixmaster
Adorer of Birkenstocks, with or without socks
Daryl's cone picker-upper and goal putter-awayer
Eater of fine Donuts
Ligature hoarder
I...