The debate continues: Is cheerleading a sport?
If you're looking to be exempt from a semester of P.E., taking part in cheerleading gives you the pass. And when considering the various sports at Ames High, cheerleading is on the list. But is is it really a sport? "No," sophomore Shania Smith said. "All they do is stand there during the football games and clap. In sports, you have to sweat." Cheerleading does seem easy. A dozen smiling, primped girls with sparkly ribbons make everything they do look effortless; from tossing someone up in the air to perfectly coordinating a cheer. But the challenge is to look as if you aren't working hard. "In reality, a lot of athleticism goes into cheerleading," senior cheerleader Julia Barrett said. "We are throwing girls up into the air which is very dangerous. We must have flexibility and strength. Not to mention being 100% positive all the time!" During the football games, the cheerleader's primary goal is to animate the spectators and make for an exciting (or at least exciting-sounding) game. "If the cheerleaders don't do their job right, everyone is quiet except for a handful of high-pitched voices," sophomore football player Melvin Osanya said. "When the cheerleaders get the crowd going, I'm motivated and I play better." Barrett and her team are well aware, knowing they must "make it loud." "We are leaders of school spirit and unity." she said. "It is an expectation by our coaches that we do our best to achieve these values. I think it can make or break a game depending on whether the student section is excited or not." Football games are the most publicized areas of a cheerleader's career, but the state cheerleading competition is what distinguishes the program. At the competition, judges score not only the technique of choreography and stunts, but also the cheerleaders' showmanship (effective use of eye contact, spirit, confidence, etc) and the cheer's potential for crowd response, according to the Iowa Cheerleading Coaches Association. Jewelry is illegal, and hair must be away from the face. Preparation requires hard work. "We usually start off each practice with something called the Great Eight," Barrett said. "It consists of a mix of different conditioning exercises such as burpees. We need to condition ourselves as athletes. The state squad stays for an additional 45 minute practice, so I'm there for almost two hours." The hard work definitely paid off, with the Ames squad winning first place at State and 6th at Nationals in Dallas. Cheerleading is unconventional in the skills required for success, but it does retain standard "sport" principles such as teamwork, dedication, and having a mental edge. What it is lacking is the certain jock-ness present in all other sports. "In the eyes of our athletics administration, cheerleading is considered a sport," Athletic Director Judge Johnston said. "It is treated like any other sport we are proud of here at Ames High."
Leave a Comment
About the Writer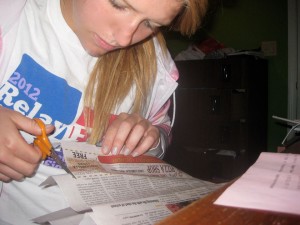 Madeline Topf, Editor-in-Chief
Mixmaster
Adorer of Birkenstocks, with or without socks
Daryl's cone picker-upper and goal putter-awayer
Eater of fine Donuts
Ligature hoarder
I...