American Idol spices things up
My fellow Americans, we are coming closer to the date that will decide our nation's future. American Idol is set to begin in January 2013. The show, while it may have been through a few rough patches, will be brought back to life with the addition of new judges for the upcoming season. It was recently announced that Keith Urban and Nicki Miniaj will be joining Randy Jackson (STILL?!) and Mariah Carey on the panel to equally represent all areas of the music community. While the contestants may or may not get far after the show, American Idol definitely brings in plenty of viewers to make the artist's success irrelevant (Sanjaya, season 6). And with country music reigning on the first reality singing competition , Keith Urban will utilise his expertise. He reminds viewers that the show is called " American " Idol , and not "Lets put a bunch of freaks in a room and laugh at them, then stop watching after Hollywood week." Minaj, on the other hand, is known for her pink spandex and profane girl rap. Her catchy jingles and dramatic outfits will remind the contestants that star ships were really meant to fly. Whatever that means. The remaining judges, Jackson and Carey, hope to offer real advice to the contestants. Carey is the most established artist of the group, so she knows what it takes to be around for the long haul. Jackson, America's Favorite Judge, has been on the show for, like, an eternity, so he has got to be wise! It brings to mind his famous quote: "Yo dawg, it was a bit pitchy, man." Such solid critique. Will these new judges be enough to restore the show to its former glory? Ripe with scandal, Idol has been accused of being sexist and showcasing incorrect telephone voting numbers. According to E News, last year's season finale had the lowest ratings in the history of the show, as America watched Phillip Phillips win the show's 11th season. Although he was the fifth consecutive white boy with a guitar, he was the only winner with congruent names. Idol chatter aside, the diverse set of judges certainly hope to bring successful change for the hit show. If not, we always have Ryan Seacrest's charm to fall back on and make this season one to follow religiously until the end, then forget every contestant once they actually release an album.
Leave a Comment
Your donation will support the student journalists of Ames High School. Your contribution will allow us to purchase equipment and cover our annual website hosting costs.
About the Writer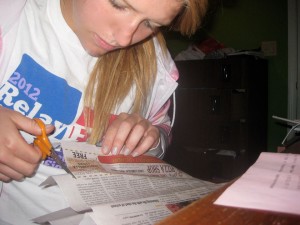 Madeline Topf, Editor-in-Chief
Mixmaster
Adorer of Birkenstocks, with or without socks
Daryl's cone picker-upper and goal putter-awayer
Eater of fine Donuts
Ligature hoarder
I...