Does Ames High have an environment of belonging?
When junior Ashley Nussbaum moved to Ames last summer, she was faced with a problem common to many students new to a high school: finding friends and fitting in. "I moved in right next to my now-friend Madison Hunke," Nussbaum said. "People at Ames High are generally friendlier and more accepting than where I had attended in the past." Ames High School has taken steps throughout the year to strengthen feelings of belonging at the high school. The administration is trying to assure this friendly and caring atmosphere first off by encouraging teachers to make connections with their students. "If I get the feeling a teacher doesn't like me or doesn't care about me," Nussbaum said. "I'm not going to want to open up in their class. I'm more talkative and engaged in classes where I feel comfortable with the teachers." School principal Spence Evans has done workshops with the staff in hopes to strengthen student-teacher relations. One of the activities involved posting every student's name on a piece of paper and allowing teachers to write his or her name on the paper as well, signifying a connection with that student. "I think it is a good first step as we create awareness of those who appear to walk our halls alone," Counselor Allison Diblasi said. "As counselors, we are always looking to show students how much we care." This is just another way to increase unity in the school, but it is questionable as to whether more teacher involvement will have significant benefits. "You only spend about an hour with a particular teacher each day," Nussbaum said. "It's your friends and peers that are really going to affect how you feel at school." These peers can prohibit learning and the feeling of safety at school. Bullying has become a national concern, with awareness spreading throughout the country. "Although I know bullying exists, I don't see a lot of it," Diblasi said. "However, students do visit me in my office to tell me of their negative experiences they may be having with others. We take bullying seriously and and encourage students to tell us when they feel harassed or unsafe." Posted up on many teachers' walls are green circles with the Ames High logo in the center. These small signs identify a teacher who is willing to talk with students about how they are feeling, particularly with regards to bullying and acceptance. Student council has also been working to identify and solve this problem. "I think it's the council's job to voice AHS student's opinions and concerns," senior Student Council Co-President Bridget McFarland said. "It was very interesting to see how many students witness or experience bullying." McFarland also agreed that a large percentage of the bullying occurring at Ames High is through social media, in part because it is easier and more anonymous to carry out bullying. Ames High Compliments, a Facebook account aimed to give encouraging flattery and praise, works to combat the hatred often seen online. Anyone can send a message and the account will direct the compliment to the identified person. This experiment has been repeated throughout many high schools in Iowa as well. "The more a student feels a sense of belonging at school, the more positive their experience is," Diblasi said. "This positivity then enhances a student's feelings of personal worth, increases productivity, and encourages good citizenship."
Leave a Comment
Your donation will support the student journalists of Ames High School. Your contribution will allow us to purchase equipment and cover our annual website hosting costs.
About the Writer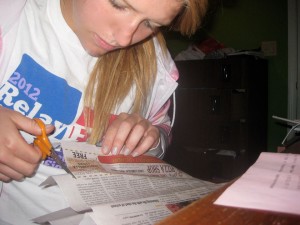 Madeline Topf, Editor-in-Chief
Mixmaster
Adorer of Birkenstocks, with or without socks
Daryl's cone picker-upper and goal putter-awayer
Eater of fine Donuts
Ligature hoarder
I...