Grad parties are too stressful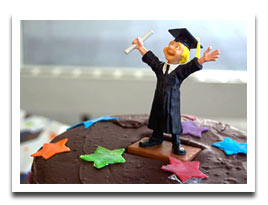 '€˜Tis the season for graduation open houses, and the weather could not suck any more. I personally think that people get way too wrapped up into the whole open house thing. My parents are stressed about finishing up a landscaping project in time- but honestly, who cares what the back corner of my yard looks like? There'€™s pressure to have the best food, the coolest decorations, even the cutest baby pictures. I'€™m sorry everyone, but there are some pretty unattractive shots of me from my middle school years that you'€™re going to be exposed to if you come to my party. There is also the issue of who to invite. My parents sent out invitations to people I have never even heard of; distant family members I haven't seen since my infant years and their co-workers whom I'€™ve only met in passing. This just makes the whole celebration awkward if I have to keep pretending I know people and faking enthusiasm when I'm actually wondering who the heck they are. Grad parties should be fun- but the times leading up to them are way too stressful to fully enjoy the fiestas. Everyone needs to simmer down and remember what this time is all about. We finally made it through our four years of high school and are taking our first steps toward the future. The sheet cakes don't hurt either.
Leave a Comment
Your donation will support the student journalists of Ames High School. Your contribution will allow us to purchase equipment and cover our annual website hosting costs.