Sally MATTERS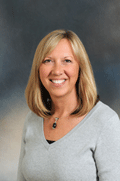 If you've ever been in the athletic office to talk to Judge, turn in a physical form, or pick up a form, you've probably had the pleasure of meeting Sally Matters, the athletic secretary here at Ames High. She most likely greeted you with a smile, and informed you of where to turn in your form, or when Judge would be available to meet. Sally has be a known face in Ames High for 15 years, and sadly, this year is her last.
Sally started working in the school district 33 years ago, working as an EA (education assistant) at Fellows Elementary. After working there for 15 years, Sally moved on to the middle school. After working there for about a year and a half, Sally was asked if she would like to continue her work at the high school. Sally accepted, and interviewed to be the new athletic secretary at Ames High, and as you can see, she's been here ever since.
One of Sally's favorite memories at Ames High is the legendary era of Harrison Barnes. When asking why that time was Sally's favorite, she responded, "It was so exciting having someone like Harrison and that whole team that drew such a crowd every time we had an event." Sally distinctly remembers the Ames High basketball team having a big game against a school in Illinois at Hilton Coliseum, and winning. Sally couldn't describe that experience as anything less that "amazing," and loved seeing how many people came to fill the stands and support the Little Cyclones.
Sally is excited to spend more time with her 5 grandkids, along with biking, camping, and reading. Sally is excited to do some traveling with her husband, including driving up the west coast in their new convertible.
Sally has made a lasting impression here at Ames High and has left some pretty big shoes to fill. From all The Web members, we would like to thank Sally Matters for all of her years at not only Ames High, but also at the Ames Community School District.