Maria Kozakova Ain't No Square
"This is so hard, I don't know how to describe myself. I dunno who the heck I am," said Maria Kozakova, an Ames High senior. When her interview began, she quickly turned around to a group of classmates for words they'd use to describe her. "Erratic" and "Unique :)" (textual smiley included) were the winning responses.  A sociology admirer, movie aficionado, collector of teeth, and player of Pokemon (FireRed, First Generation to be specific), Maria is a certainly an idiosyncratic person.
Maria stockpiles several hobbies, including playing guitar at open mic nights, writing poetry once in a blue moon, and collecting pearly whites from roadkill. The teeth are not just for an aesthetic, she makes necklaces out of teeth, something Maria got into because of a friend who's a professional taxidermist.
"As I've grown up I've just accepted it as something that happens but I don't think that the parts of the dead animal necessarily have to go to waste. I don't know kind of like finding beauty in a corpse," Said Maria. As a child, she would faint anytime she had to get a shot, and she used to sob at the sight of roadkill.
This change in mentality has led to something else — Maria's tattoos. On her left arm, there is a collection of tattoos that Maria has done herself. It started when she was bored going home on the bus and came to the decision to give herself some ink. Now, whenever she can't think of something to do Maria gives herself a new tattoo.
Her favorite thing about them? "Freshmen think I'm really edgy," Maria said. They're often scared of her because of them, or they get very excited and are virtually transfixed by the ink.
Like the freshman's attentive fascination, Maria has found an adoration for the stories told in movies, seeking out the media form for its plots. Maria's love affair with cinema started in middle school. While she found watching television shows on Netflix pleasurable, the shows left Maria wanting something more. Eventually, she got into to films.
`    "I started turning to movies, a lot of which had more well-rounded stories where things actually happened of importance, lives were changed, etcetera, and it wasn't just a Friends episode where nothing really happens [and] it all just ends at the same spot where it started," Said Maria.
She lists Leon the Professional, Requiem for a Dream, Kill Bill, and Spirited Away as some of her favorite film. Lars von Trier and Quentin Tarantino are some of her favorite directors. Maria likes Tarantino especially for his films' soundtracks.
"To me, people are like the most interesting thing about life because if you just imagine life without any people, yeah you can still see the trees and stuff but without people, it would kind of suck. It'd be boring," said Maria.
"
You can be from the other half of the world and people will still laugh the same and cry the same, and that's also what interests me about sociology."
— Maria Kozakova
Fascinated with how people's brains interact and why people act the way they do, Maria found a passion in the study of humans that was initially sparked by taking the sociology course at Ames high. Maria wants to study the way people interact with each other and how they're socialized.
"You can be from the other half of the world and people will still laugh the same and cry the same, and that's also what interests me about sociology," said Maria. "Leaving the country and being out the country just makes you realize there's a whole world out there and there's different people out there. Also, they're not that different from you at all."
Maria is not American, though, a majority of the time, nobody can tell and it only comes up if people ask her or she mentions it. Most of her life was spent in the country she was born in, Slovakia, a European country known for its castles and landscapes. Before coming to the United States, also lived in Great Britain and Brazil. While London was "dirty and everyone was sad and angry," Maria remembers the sound of gunshots from her gated community in Brazil.
"I don't wanna [say] I have more of a perspective than [Americans] but it's just kind of a different perspective," said Maria.
Leave a Comment
About the Contributor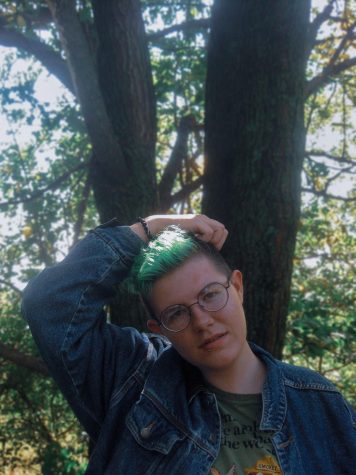 Seth Bequette, Co-Editor
Back from the dead of summer and coffee induced manic episodes for senior year, I've returned to talk about the uselessness of automobiles alongside other...