Staff retirement: Bob Uetz
What are your favorite memories from your teaching career?
Too many to list but they all involve people – mostly young people.
What led you to become a teacher?
When we figured out our youngest son had a bad teacher. A bad kindergarten teacher,
of all things, I didn't know it was possible. I mean, kindergarten teachers are a special breed of saint. There were a number of factors but that's what put me over the edge.
I had to get into this gig.
If you hadn't become a teacher, what would you have done instead?
Free-lance pie tasting or critic-at-large would suit me. But more likely I would have
continued doing something related to construction and real estate.
How long have you taught at Ames High?
Came here to student teach in the spring of '89 and (but for one year) never left.
What classes did you teach throughout your time here?
Freshman World Studies and seniors in Government. At one time or another I think I've taught most of the social studies electives we've offered.
What will you miss most about Ames High?
Teenagers. Everywhere!
What are you planning on doing during retirement?
We left Ames in '99 for our minifundia in Boone County. I plan on spending a lot of
time there with my goats and chickens. Plenty to do but mostly I want to watch my trees grow.
How did you wind up with the room in the band hallway?
Not by accident. Love the fine arts wing – great company. The speech room belonged
to my main man, Mr. Hansen. And there's the boiler room which was the alternative lounge for teachers when I started. Lots of ghosts down there – the good kind.
What role did you play in bringing the Cy-Hawk trophy to life?
My friends and I came up with the idea and had it built so that one day Iowa and
Iowa State could be the only schools in the country to sell out a rivalry trophy to
corporate sponsors.
What kind of advice would you give to Ames High students?
Always bet the next pitch will be fouled off when there's a 3 – 2 count on the batter (you'll win around 70% of the time). Beyond that I've got nothin'. Still trying to figure things out for myself and enjoying the problem.
Leave a Comment
Your donation will support the student journalists of Ames High School, and Iowa needs student journalists. Your contribution will allow us to cover our annual website hosting costs.
About the Contributor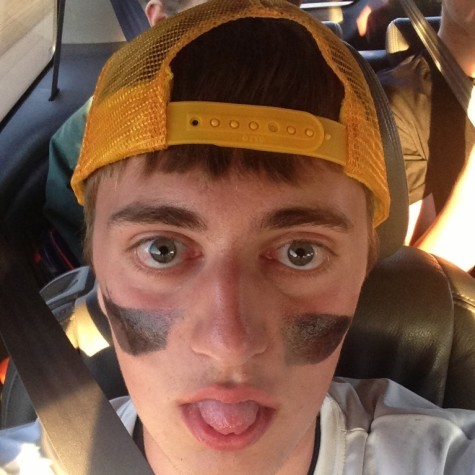 Aaron Marner, Online Editor
Aaron Marner is a Panther.