Skate, Forrest, skate
For many of us here at Ames High, the name Forrest Oh is not unknown. This senior hockey player comes equipped with his very own catch phrase: "Skate, Forrest, skate!", a phrase often heard when he hits the ice. "[I hear it] too many times. It get's annoying". Despite this catchy phrase that seems to follow him everywhere, Oh is ready for this hockey season. "The team is good and we won our first two games. We've got a good freshman class and good coaches." Oh said about his hockey team, whose so far undefeated season of 2-0 hasn't happened in a while.
Aside from hockey being one of Oh's defining factors, so is his name. When asked if Forrest enjoys forests, he answered: "I feel at one with them. I would say Bosque thrives in the bosque. They have trees, I have…hair? That's similar right?" Maybe not quite the same…But speaking of hair, everyone wants to know whether or not Oh will be bringing back the luscious locks he used to sport. "I grew it out last year for hockey season, but it was hard to manage with a broken wrist. I gained more appreciation for girls, but I think I like the short hair better. Everybody hated on my long hair. It hurt." said Oh.
With freshman year of college just around the corner, we were also wondering what Oh's plans for college are. "To eat a lot of food."commented Oh, "and I'm going to Blue Mountain State." A reasonable choice of college that we're sure many other senior guys are also wishing to attend. Maybe he could play for the band considering he admitted to knowing how to play "Sexy Sax Man" on the saxophone, a perfect selling point.
Forrest Oh is a man who towers like a tree over cowering freshman, but don't have fear little freshies, this cool (literally when he's at the hockey rink) senior is a guy you'll want to be friends with. His views on PDA ("Not okay" and "No bueno") are inspiring to young ones here at the high school, and his love for his two slightly lazy cats is heart-warming. So, next time you see Oh gliding through the Ames High hallways, make sure you yell one thing loud and clear: "Skate, Forrest, skate!"
About the Writer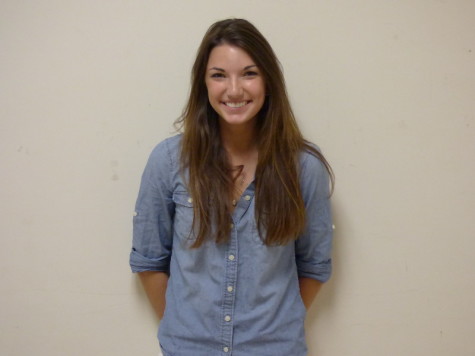 Emma Stewart, Editor In Chief
As a senior at Ames High, Emma Stewart stops at nothing to keep her daily schedule busy for her last year. Sports wise, Emma is involved in Fall Cheerleading,...