Rehmann Sisters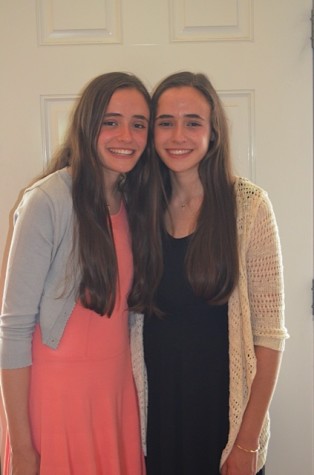 Like all the quotes say, there is no better friend than a sister. Born minutes apart, the Junior Rehmann girls fulfill the BFF super-sister twin archetype to a "T".
Both standing at 5'6, the long haired brunettes mean business. They keep busy with a schedule chock-full of AP classes and extracurriculars that proves impressive for any duo. They take part in cross country, track, band, and jazz band, to name a few.
"I play the clarinet and saxophone," says Emily. "I play the saxophone too," Jessica shared.
"Oh, and we both play piano," the girls chimed in.
To many students, the Rehmanns may seem very similar. However, they can assure you that they are indeed very different.
"What sets us apart from each other is that we play different instruments, and we have different activities because of that. What sets us apart from other people, is that we spend most of our time together. Most people don't, and because of that we know each other better."
As for life as a twin, Emily and Jessica seem to love it. The girls love being sisters and having their best friend there with them all the time. Their only annoyance about being twins are people who don't try to tell them apart.
"It's nice when people try to tell us apart or make an effort, and [we don't like it when people] assume that they can't, or assume that it's impossible," says Emily.
These super sweet and super smart sisters definitely have a big future ahead of them. Both girls are looking forward to life after high school to see where all their hard work will take them.
They would like to major in something science or math related and attend a school preferably on the East Coast.
Next time you find yourself sitting next to Emily or Jessica in class, try differentiating between who-is-who. Trust me, they'll appreciate it.