Cassidy Brooke: Ames High's Next Super Star
So you might have seen on half of the senior class' Instagram stories a few weeks ago a new debut song from Ames High's own senior Cassidy Peterson. First releasing her song "Mtn Days" on SoundCloud she instantly got a great response. Two days later the song was available on Apple Music and Spotify for all to hear.
"I thought maybe a few of my friends would listen to it and be like 'oh good job' and then be over it but like when everyone started posting and commenting and texting me I was so surprised because it made me so happy it was so cool, I did not expect that," said Peterson.
If you haven't yet heard her song, just imagine you're on a hike in the pacific northwest living disconnected from social media and your soul is taking a breath of fresh air. "When I wrote that song when I wrote the lyrics and the melody, I was in a tent on the top of a mountain. I'm not joking. It's hard to feel inspired and obviously, with the pandemic and stuff, I didn't feel inspired at all. Then I went on this backpacking trip in July in Montana. So then, I got super inspired and I brought a little journal and so I started writing down these lyrics and the melody just kinda comes to me, I can just find a melody that fits in with the lyrics, and that's how it started," Peterson said. 
"I've always wanted to release a song on iTunes or Spotify, so I was like 'wait people actually like it, I could actually do this.' So I just decided to. And my one goal for 2020 was to release a song." 
If you're on TikTok, you may see unknown musicians try to promote their music on the app to try a boost a following. Cassidy was no exception. "Although not big for TikTok standards", she said, Cassidy got around 2,000 likes and 13k views on her post about her new song which helped her gain her following. On Apple Music, she is sitting around 2,000 streams, and on Spotify, as of January 27th, 5,495 streams and just over 3,000 monthly listeners. 
"The song is definitely a beginner song when I listen back to it now, there are so many things that drive me crazy, like 'why didn't I fix that' or 'why didn't I change that?' but ya know what, we are only going up from here," Peterson said. 
Going up is right. She was able to tell me that she was in the works of releasing more music in a month or so and I got the privilege to hear her next song, and all I can say is you are going to want to listen to it. 
With one last thing to share Cassidy said, "A little note to the youngins out there, if anyone wants to do anything like this or release music or art or anything, just go for it because there is nothing you're going to lose from it.  If I hadn't just decided to put my mind to it and work on music, I would be in a very different place right now."
You can follow Cassidy @cassidybrooke on Spotify, AppleMusic, and @cassidybrookeeee on TikTok.
Leave a Comment
Your donation will support the student journalists of Ames High School. Your contribution will allow us to purchase equipment and cover our annual website hosting costs.
About the Contributor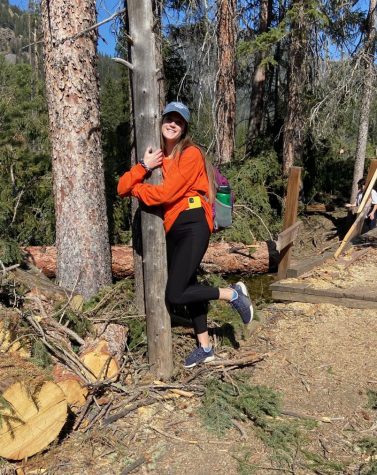 Erin Murphy, Editor
Hi I'm Erin. I joined the Web Junior year. I play sports, I am in some clubs. and If I'm not being athletic or doing homework chances are I am watching...