Dance Marathon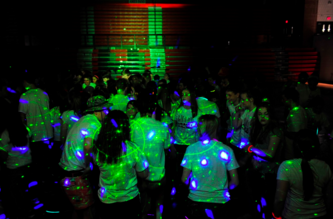 Ames High's second Dance Marathon was a total success, raising a total of $10,613 at the date of the dance for Children's Miracle Network with around 300 students attending. After a few days the donations kept flowing in and the total is up to $11,872.14.
The event started off with Seniors Michael Burke and Jay Amin DJing in one gym. In the other gym was a photobooth, basketball and games.
In gym 1 every hour everyone dances the Moral Dance. The purpose of the Moral Dance was to pump everyone up and create a feeling of comradery. After dancing the Moral Dance everyone would sit surrounding the speaker. Four families attended to talk about their personal experiences with Dance Marathon and Children's Miracle Network. Listening to how Dance Marathon directly affected their lives and their children's lives showed how what we are doing actually mattered. This allowed for the night to be not just fun but meaningful as well
"It was so rewarding to see all the students that came out and supported the families impacted by Dance Marathon. I think listening to the families talk really put in perspective how hard some of these kids have it and makes us appreciate our lives even more," said co-director junior Ryan Weiss.
Our Dance Marathon is 3.5 hours (8pm-11:30pm). The last hour is called the power hour. Gym 2 closed down and everyone danced in gym 1. Burke and Jay brought out the smoke machine, amped up the light show and glow sticks were dispersed.
Dance Marathon is an amazing event that everyone at Ames High should attend. Because it's more than just a fun night with your friends, it's a chance to help change people's lives, one fist pump at a time.