Ms. Gustafson: New Year, New Challenge
Past the walls of Mrs. Martinez's room and before the science department, lies a set of classrooms that not every student gets the pleasure to know. These rooms host part of the special education department, a department that has welcomed two new faces to its staff this year. 
Of these teachers, I had the chance to sit down with Ms. Gustafson. She has been teaching in Iowa for the past 11 years, working in both Woodward Granger and Gowrie. Previously, she taught English, a subject for which she has a deep passion. 
¨I love to read, and I love words and I love all of the possibilities that words provide… Communication is so important, so I love sharing that passion with kids… I know English can be people's least favorite subject so I used to try to make it as… painless as possible so that they came away with the skills they needed in order to be successful."
While she is no longer teaching English, her considerate approach to teaching has likely helped her in her latest field. At the very least, her push for growth can explain her recent switch to special education. 
"I wanted to change. So- I mean I love teaching English, it's probably my biggest passion, but I wanted something different, a different challenge. And so I decided to come try this and it's been- it's been really fun so far."
This year, Ms. Gustafson is working as a resource plus Special Ed teacher.
"I have various students in my room, most of the day, and then we go out to the general ed setting as much as we can."
While most AHS students will not have Ms. Gustafson for class, anyone is free to stop by during free periods and get to know her. Given her welcoming attitude, students may benefit from doing so. 
"I try to remember being a kid. I remember being in high school. So, even though, I mean I know I'm an adult.. I remember what it's like. I know what you're going through and like, you can come to me. I get you."
Beyond teaching, Ms. Gustafson leads a busy lifestyle taking care of her five-year-old daughter, as well as two Shih Tzu's, and a golden doodle. 
"Mila is involved in dance and soccer and T-ball when it's that season so we have a busy schedule. But she's great… They're very, very fun."
Leave a Comment
Your donation will support the student journalists of Ames High School, and Iowa needs student journalists. Your contribution will allow us to cover our annual website hosting costs.
About the Contributor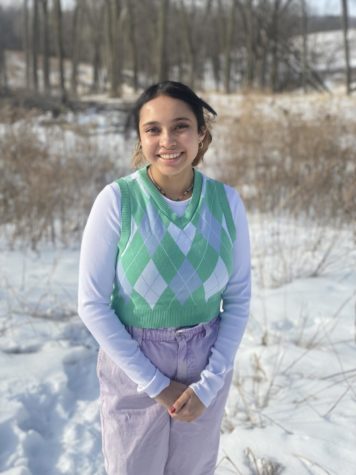 Sophia Cordoba, Editor-in-Chief
Sophia Cordoba is a senior at Ames High, and more importantly, Editor-in-Chief of the Web. Amongst other things, she enjoys keeping up with the news despite...