Yoga for athletes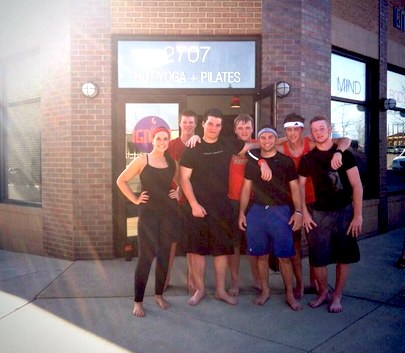 The final school months of April and May are packed full with activities, including a flurry of spring sports meets and practices leading into the summer. Athletes all over the school have been branching out to new ways outside of practices to stay toned and in shape for their sport. From weightlifting to running, everyone has been hard at work, but the newest fad that seems to be snatching up more and more athletes is oddly enough, yoga. Being a yogi myself, I know that yoga helps athletes to stay stretched and toned whether you're in season or in off season. It's a surprisingly hard workout and requires a lot of concentration, but that didn't stop yoga's latest baseball victims.
Toran Shahidi recently took a hot yoga class at Ignite Yoga Studio in Ames, and came to find he really enjoyed it. Deciding to bring the rest of his spring league baseball teammates into it, he convinced some others to join him for more. "Loose muscles are fast muscles," said Shahidi, "people that have faster muscles can hit the ball farther, they can throw it faster, they can run faster, and they can perform better on the field."  Ignite Yoga Studio offers a variety of classes, but hot yoga is rising to be the most popular class for athletes. "It's very fun and it's very sweaty. We have a thing amongst our baseball players where we say it's rainforest sweaty. You can fill a bathtub full of sweat," commented Shahidi. The 90+ degree studio helps your muscles to stretch out, perfect for keeping athletes flexible and in shape. It also helps athletes to relax after a long week of practices and games.
But what do yoga instructors think about more high school athletes coming to yoga? "I love it when athletes come to class, they are great. Sometimes it's hard for athletes to quiet down and be still but for the most part they take yoga seriously, work hard and are surprised that it's not just an hour of stretching and saying 'om'," said hot yoga instructor, Kelly Stewart.
Athletes from Iowa State have also been taking advantage of Ignite's classes. Iowa State's men's and women's basketball teams, the wrestling team, softball, golf, and tennis teams have taken classes during their seasons for the same reasons our high schools athletes have: to stay stretched, relaxed, and get a different kind of workout. "We have several football players who come when they can, and other elite athletes like professional triathletes, mixed martial artists, marathoners, gymnasts and dancers," said Stewart.
Yoga is making a big entrance into athletes' workout routines and the benefits are becoming obvious. While many athletes believe yoga won't make any difference to them, they would be surprised to find out how their body reacts to a class. "So many athletes are strong in their sport only to come to yoga and work different muscles, and they find their strength isn't balanced," said Stewart, "Many athletes overuse certain muscles depending on their sport or position. This is where yoga is so good for them. By working on balancing their body and creating supple ligaments they may be less prone to injury in their sport."  Sounds like a pretty good deal, right?
Shahidi shared his favorite parts of the yoga class as well: "My favorite part… the teacher was pretty hot. We're also having fun in there, it's not cold, and we can wear headbands! Me and Stone can wear our headbands," said Shahidi. In my personal opinion, yoga could help athletes improve their game all over the high school. The baseball team is just one of the firsts at our highschool to figure out the advantages of taking yoga.
Leave a Comment
Your donation will support the student journalists of Ames High School. Your contribution will allow us to purchase equipment and cover our annual website hosting costs.
About the Contributor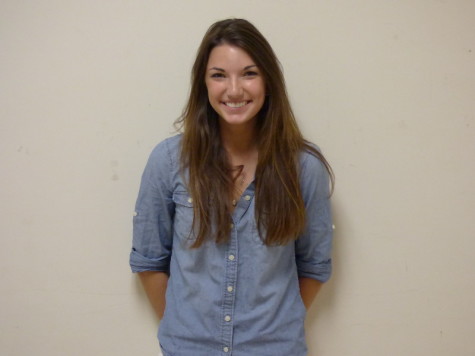 Emma Stewart, Editor In Chief
As a senior at Ames High, Emma Stewart stops at nothing to keep her daily schedule busy for her last year. Sports wise, Emma is involved in Fall Cheerleading,...