No Joy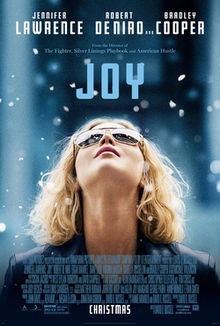 Joy is a horrific movie. So bad in fact that we couldn't put this article in the reviews section due to some politics and the overwhelming need to publically rant.
Picture this. Christmas Day. Me. My family. Movie theater. Lights go down. Three hours of Jennifer Lawrence sobbing, glaring and shouting all in profile about mops. As if anyone cared. I was under the impression that this would be a good movie, but then I remembered that I hate Jennifer Lawrence. Crying isn't acting. I don't have any real acting experience but I can cry on command. The storyline is terrible. Every single character is boring, flat and useless. Jennifer's character speaks fluent Spanish for no apparent reason. There's a ton of Hispanic women who go make mops for her? Where did they come from? Why doesn't any character have any depth? WHY IS THIS MOVIE SO BAD. Bradley Cooper was only there as a cute prop. He doesn't do much. This entire movie doesn't do much. Do not even bother seeing this movie ever.
THEN WHEN I FOUND OUT JENNIFER LAWRENCE GOT AN OSCAR NOMINATION I TRIED TO FIND A PHONE NUMBER FOR THE ACADEMY AND CALL TO COMPLAIN. ON WHAT PLANET DOES SHE DESERVE THAT. WHERE!?? WHY?!?!?
This is a travesty. I will not stand to live on an earth where Jennifer Lawrence is a 2 time Oscar winner. This year's most likely Oscar winner for Main Actress is Brie Larson. IF JENNIFER LAWRENCE PULL SOMETHING AND STEALS BRIE'S OSCAR I WILL END MYSELF. Sit down and watch Room for a minute, Brie's performance actually made me cry. She deserves the world and definitely the Oscar.
All in all, Jennifer Lawrence is an overrated actress. Joy is not worth watching and you should definitely watch Room.