Kendall & Kylie App
Some say it is just an app, but I say it is a window into a new life. Filled with vlogs, appearances, dates and glamourous parties at Kendall and Kylie's this app is virtual submersion.
When you first download it, you can customize your character's hair, skin tone, clothes, makeup and facial features. Think of it as the you that you have always wanted to be, but slightly pixilated, with flawless skin. Your character starts off working a minimum wage job at a salon and works their way up to vlogs with Kylie and appearances with Kendall.
The ultimate purpose is to gain followers and become famous. This can be done by receiving 5 stars at an event, going on a successful date or even buying a new outfit. Not only can you post on your actual social media what you avatar is doing, but on the game there is a virtual version of Instagram. In the app you can share your adventures and like your gamecenter friend's posts. But beware, a bad date or an unsuccessful appearance can quickly deplete your followers and your social standing can dip.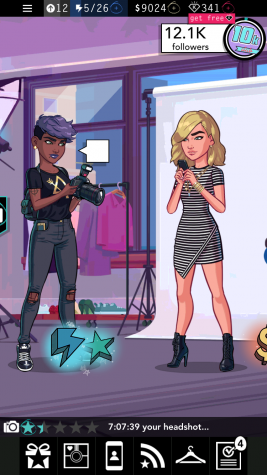 Their sisters app 'Kim Kardashian: Hollywood' grossed over $85 million dollars. I think this app should be equal or more successful to their sisters app because the younger Jenners have a stronger pull on the younger teens that would use this app. Also, Kendall & Kylie's app has better graphics and is easier to use. Just like many virtual games there is an option to spend your real hard earned dollars on K-gems, virtual cash and energy.
If you are ever staring at your phone wondering what app to open next I recommend opening the app center and downloading Kendall & Kylie because what better way to waste your time away than with debatably the coolest sisters alive today.