Shria is settling in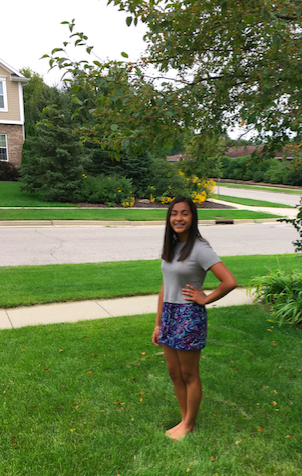 Hang on for a minute...we're trying to find some more stories you might like.
I'm sure everyone can remember (and wishes they didn't) their freshman year, but freshman Shria Chug is taking her first year of high school with determination. When asked how she is settling into her year one  at Ames High Shria said, "I just love the overall spirit of the high school. My freshmen year has been going really well so far! All my teachers are so supportive, and have helped me adjust to the high school." She also mentioned how surprised she was by the kindness and helpfulness of the upperclassmen! (We aren't so scary after all!)
As we all know Ames High is a petri dish of multiplying clubs and activities to get involved in and Shria found plenty to keep herself busy! Shria is staying active by finding a school sport for each season: Cheer, Drill Team, and Tennis. She also dove into DECA, Science Olympiad and student council. Who knows, maybe she will be Ames High's future Class President?
It's important to be involved in school, but if you never take a deep breath you run risk of going insane. After Shria's long day of school, and then sports, and then homework she enjoys to just relax. Can't blame her! If Shria runs the risk of being bored she said, "I go out and eat food or FaceTime my friends. I also love to read, especially Harry Potter!!" When asked what her favorite social media is she said, "My favorite social media is probably Snapchat because I feel like I've made so many friends through it, and it's a great way to stay updated with all your friends."
High School is a time for all of us to try new things, make new friends and maybe even discover our passion in life. With a little less than 4 years ahead of her, Freshman Shria Chug is excited to explore more life as a high schooler. She said, "I am looking forward to trying new clubs and being more a part of the high school in the next few years. I am also super pumped about marching band, especially the Disney trip next year!" Enthusiastically, Shria is taking on life as a high schooler!