The Cost of Paperless
Hang on for a minute...we're trying to find some more stories you might like.
Students entering the media center might notice that something is missing. Where the student printer once sat, whirring and cranking out paper, there is now nothing but a fake potted plant.

Students were informed earlier this year that they would no longer have access to printing, a change in part due to excessive printing that happened in the 2016-2017 school year which cost the school district a large sum of money.

"

Every copy that came out of that printer cost five cents or so… if you extrapolate that out toward thousands and thousands of pages, it adds up to real money,"

— Karl Hehr

said Karl Hehr, Technological Director for the Ames Community School district. He explains that there was a lot of extraneous printing going on at the High School in addition to the large amount of waste that resulted from students printing, but not picking up their documents. On any given day he described there  being "half a rainforest" of paper going to waste.

"You not only have the cost of the paper, you have cost of the toner, you have cost of the printer and cost of maintaining it." He says  the printer that was in the media center was simply not meant for the heavy use it underwent last year, and its frequent breakdowns were a result of this.

"If we're ever to go back to some sort of managed print set up for students it would require a much more robust device in the media center [and] it would require additional expense in management," Hehr said.

The current system used by the district, one that allows teachers to swipe their IDs to be able to print, is called PaperCut. PaperCut charges based on number of users, and setting up a system that would allow students to also have their printing numbers monitored, would cost the district a significant amount of money.

In the end, the district determined that it was a worthwhile sacrifice to eliminate student printing.

"All of that paper. All of that toner. All of that work. It was all general fund dollars." Hehr said. "That's money, now, that we can use to pay for staff, pay for resources, pay for things we could normally not pay for."

But the lack of printing isn't popular among everyone.

"I believe that taking away the students' ability to print made it harder for me to do some of the things I like to do in the classroom," said Kirstin Sullivan, Ames High Social Studies Teacher. "I understand that there was a lot of superfluous printing going on. Stacks of it. I get that. I feel like there could have been another way than cutting off printing altogether. I do a lot of writing in my classes and I can only grade so much looking at a screen. I have to look at paper."

"

Yes, paper is costly and printer ink is costly, but I think those two are essential for the educational process. So to take away that process all together makes it a lot harder."

— Mrs. Sullivan

"Yes, paper is costly and printer ink is costly, but I think those two are essential for the educational process," Sullivan said. "So to take away that process all together makes it a lot harder." She says that certain assignments are just done better on paper and describes the difficulty of grading assignments online as opposed to grading a physical copy.

She also says  that if students are spending more time completing assignments on their computers,  they are being exposed to more distractions.

"I don't want to look at the back of your computer screens," Sullivan said. "Especially when all of the research says that paper and pencil is better."

However,  Hehr says that the new system shouldn't restrict the ability of teachers to teach.

"[Ames High students] have had computers for four years now with multiple ways to turn in assignments electronically and things like that," Hehr said. "If it's an assignment that must be printed out, maybe it's a poster or a flyer, then the teacher or advisor has the ability to print that out."

"I know they're trying to make everything electronic but sometimes we need the paper," said Grace Kim, AHS Junior. "What if we just read better on paper and making the teacher print copies for all the students is more than they should do for us. They have enough to worry about anyways."

The bottom line is that the printer is no longer available to students and so both teachers and student will have to adapt to the change. Hehr doesn't see this as a bad thing.  

"In reality if you go and visit businesses so much of the work is done electronically," Hehr said. "it's a matter of trying to get everybody tained up with the skill sets to operate in what is turning into a paperless world.  Whenever there is change there are growing pains… but in the end through training, through work, through support all that change goes well."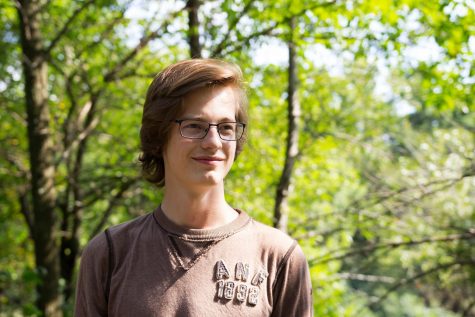 Lucas Bleyle, Co-Editor in Chief
This is Lucas' fourth year on the WEB, and second year as Co-Editor in Chief. He plans to work tiredly to elevate the Web to new heights. He is suggesting...