Hair, Skin, and Nail Trends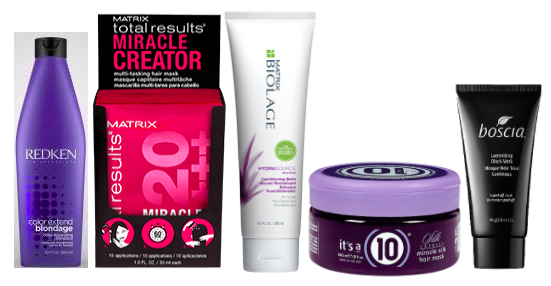 There are lots of new fun and exciting products that were just recently put on the market. One of the newest products I am super excited about is the Color Extend Blondage by Redken. "A new color-depositing system that tones & strengthens blonde hair," Redken said on their Instagram. Purple shampoos have been around for awhile and most of them fall flat. But The Color Extend Blondage has actual pigments that deposit into the hair while you shampoo, a technology that prior to being used by Redken hadn't been used before.
Hair masks have been around for awhile but there is a new one on the market from Matrix. The Matrix Total Results Miracle Creator hair mask is a take on their Miracle Creator leave in spray. The mask is supposed to work in a minute, but I still left it on for five minutes to be safe. It is $5 for a single use packet. Another good hair mask is the Conditioning balm from Biolage. It is super rich and leaves my hair feeling incredibly healthy. One down side to it, however, is if you use too much, it can sometimes weigh your hair down. It retails $18 for a 9.5 oz bottle and $27 for a 16.9 oz container. My favorite hair mask is the Silk Express Miracle Silk hair mask from It's A 10. This mask is the best one on the market currently. It retails for $36. It leaves my hair feeling incredibly nourished and strengthened. My hair is incredibly frizzy at times, and this mask helps to soothe it.
Face masks are also in at the moment. After becoming incredibly popular a few years ago, face masks haven't waned from popularity. My favorite face mask isn't brand new but it is by far the best. It is the Luminizing Black Charcoal Mask by Boscia. It is a Sephora exclusive and retails for $34. Now there is nothing wrong with face masks you can pick up at Walmart or the drug store for under $5, but their results and effects won't be that great or last as long as a higher end face mask.
Big bold colors are the trend in everything right now, and you can see that in OPI's latest nail polish collection. In their newest collection, entitled Lisbon, there are 12 big, bold, bright colors. Some of the funniest new colors are No Turning Back From Pink Street, a bold pink and Sun, Sea, and Sand in My Pants, a beautiful yellow. Each of the 12 colors retail for $10.50.
Overall I have great confidence in all of these products. And there isn't a doubt in my mind about the ability for these products to carry us through until something bigger and better comes along.