Dominik McDonald
If one happens to hear the stately timpani of Berlioz' Symphonie Fantastique or the lively xylophone runs of George Gershwin's American in Paris drifting through the music wing, the source of the music can likely be traced to senior Dominik McDonald.
Since he first began taking lessons in elementary school, Dominik said he has always felt a strong attachment to percussion.
"[There's an] infinite amount of color. The mallets, the tuning, there's so many variables," said Dominik when asked about his favorite part of being a percussionist. "You can always hear something new no matter which concert you go to."
Since the beginning of his Ames High career, this love for music has led Dominik to immerse himself in his art. Whether it be seated at a band performance, in the stands on a friday evening grooving to the sweet sweet sound of "cowbell", or simply walking past the band room, it is safe to say that most Ames High students have heard Dominik playing in one way or another.
Dominik's musical activities are not limited to Ames High, however. Since he resolved to seriously pursue music as a career in elementary school, Dominik has been pursuing percussion at a high level.
This last summer, Dominik studied percussion at the prestigious Interlochen Arts camp in Northern Michigan, where he served as principal percussionist for the World Youth Symphony Orchestra. Within the state of Iowa, this fall marked Dominik's third consecutive year making all-state, securing a seat in the orchestra. Dominik also regularly performs as principal percussionist with the Des Moines Youth Symphony Orchestra.
Yet all these achievements do not come without hard work behind the scenes. Focused, sustained practice is something Dominik is familiar with – at the same time that most of the class of 2019 was busy writing college essays and navigating the common application, Dominik was preparing to audition at some of the top conservatories in the country
"
"[There's an] infinite amount of color. The mallets, the tuning, there's so many variables," said Dominik when asked about his favorite part of being a percussionist. "You can always hear something new no matter which concert you go to.""
— Dominik on his favorite aspect of Percussion
While preparing, Dominik would regularly practice four hours each day. "I would do an hour at least of warmup and fundamentals, I would do some etudes for an hour, and then I would work on college repertoire," Dominik said.
His practice has certainly paid off. At the time of writing, Dominik has been accepted to the Cleveland Institute of Music, New England Conservatory, Manhattan School of Music and DePaul University School of Music.
Dominik offered these words of advice for musicians during auditions: "I think you just have to take a level head, and realize that you're here because of your preparation, you can't do anything now, so just relax, just do what you've been working on."
Dominik has a cultivated musical palette outside of his dominant genre, describing himself as an admirer of visionaries such as Chief Keef, Lil Uzi Vert, and Miles Davis.
Dominik would also like to shout out some special individuals.
"I really like our english department, specifically Webb and Ripley…Ripley is almost one of the boys. He's a real homie. And Edster, she's very much one of us."
So we have covered what we need to in this article. That is that. Our eyes see before us the image of a perfectly good boy, one who has no doubt amassed a significant sum of good boy points™ over the years.
But have we really? Can one child really be so pure, so utterly squeaky clean? From the beginning, Dominik's enigmatic nature has caused rumors to circulate about his true self. Perhaps this image of a law-aiding classical music child is merely a veneer, an intricate facade? Could it be that we have been misled by our own naively benign assumptions, deceived in an elaborate scheme to conceal something far darker, far more sinister?
I regret the thousands that have been unknowingly deceived that this has, in fact, all been a lie. In a special Ames High WEB exclusive, Dominik revealed his involvement with Crummy Thugs™, a mysterious multinational criminal syndicate.
"We always do the hood shit, you know how it goes…I've been a diehard member since day one, ride or die, homie time is all the time" said Dominik, before becoming cautious about revealing any further activities. "I will have to talk with my secretaries before I give you a final answer."
Although it is likely we will never learn of the full extent of Dominik's criminal activities, we can be assured that he will go on to do great things in the future.
About the Contributor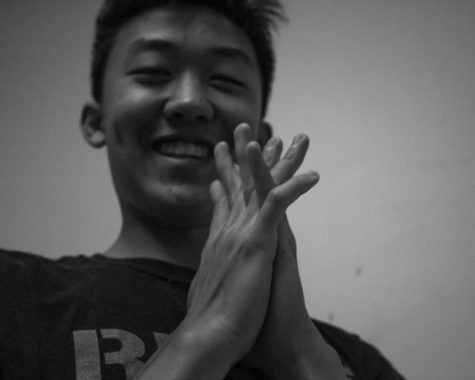 Oliver Chen, Co-Editor in Chief
This is Junior Oliver Chen's second year writing for the WEB, and his first year as Co-Editor. When not staring into the depths of the void, Oliver enjoys...