Sparkman: A bird finally set free..
From derivatives and integrals to chain rules, Stuart Sparkman has saved every struggling AP Calculus student at this school. Mostly known as the "Calc God" by several students, Sparkman has been around teaching Pre-Calculus and AP Calculus for a long time at Ames High School. He probably taught Calculus to most of your older siblings and maybe your parents as well (maybe that's a bit over the top). AP Calculus is one of the toughest AP classes students take in their high school career, having Sparkman as your teacher makes it less intimidating. Math is considered to be a subject that several students struggle at school and but having an influential teacher helps a lot.
For several students math is a nightmare and the first SINE of madness, there is just something about math that makes it so dreading. "Sparkman just makes math so much more bearable. I don't think I would survive pre-calculus without him teaching it," said JONNY a sophomore. One can't be like PI, I mean IRRATIONAL and just ignore math because it's considered to be one of the most important yet difficult courses.
Stuart Sparkman has been teaching for about 35 years now and 13 years at Ames High. He's been around for quite a while and has enjoyed his time here at Ames. Before joining Ames High, he taught at a school in Oregon which is the same place he went to college. A lot might not know this but Sparkman has a double major in Math and Psychology. Not just that, but he also knows how to speak German and wants to take some Spanish lessons in the future.
When asked about his favorite thing about Ames High, Sparkman says, "It would be all motivated students for sure as all of them are so hardworking and always try their absolute best." When asked about which teacher is his favorite he said that he adores the whole math department. He is definitely going to miss the environment and spirit of Ames High.
"I wanted to retire while I still liked teaching. My wife and I plan on traveling the next few years to Columbia, Greece, Thailand and maybe Bhutan," says Sparkman. If you have had Mr. Sparkman for math you know his little obsession with birds. Both he and his wife are bird lovers and they are looking forward to exploring the wilderness around the world.
I guess there is just one thing students feel about Mr. Sparkman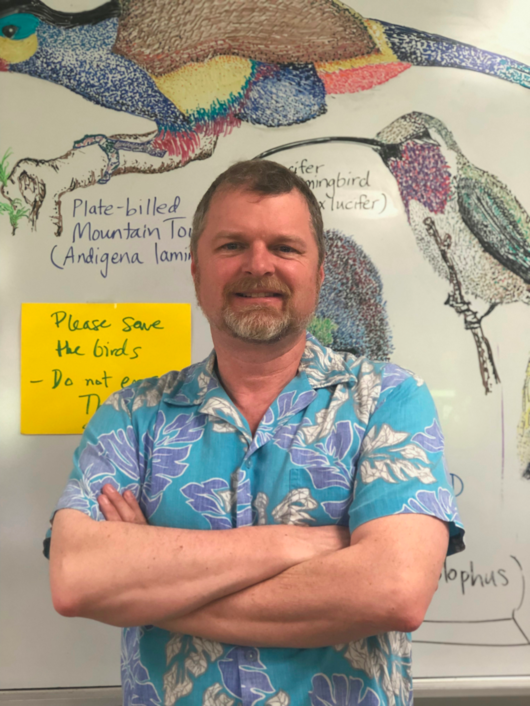 or rather an equation. It's just (x^2+y^2-1)^3=x^2y^3