Cafes in Ames: Study Review
Lockwood Cafe
Located right outside of a neighborhood on the west side of Ames, the Lockwood Cafe is filled with great amounts of light and cool unique features. For only opening an indoor location recently, it's a new and upcoming place to get some studying done. With free, easily accessible wifi and many wall sockets, it's very easy to use for computer access. The cafe has a vintage feel with lots of artwork, plants, and fun chairs and couches. It also has a very fun and European menu consisting of various types of crepes, coffees, and fancy syrups. The hours vary from 6:30 am to 4:30 pm, so it's not a place you can stay forever on weekdays, but it is very helpful for early risers on the weekends. The overall ambiance is very new and motivating, making it a very good place to study for finals!
Burgies
A long-time Ames favorite is Burgies, located on the south side of town on the way to Huxley. In the back of a gas station across the street from Lowes is a secret sweet spot to spend hours studying after school. With various varieties of coffee drinks, sandwiches, etc. You'll find lots of options to snack on to fuel your post-school energy. The professional and college student vibe makes it great to stay motivated to get things done. The hours are daily 6:00 am to 8:00 pm which makes it a very good option for busy people to study at any time of the day. As soon as you find it, it is a very good place with everything you need to for a cramming night!
G3: Games, Grinds, and Gallery
Games, Grinds, and Gallery is a newer spot and one of only two spots in the mall to snag some much-loved caffeine. Outfitted with a plethora of playable board games for customers along with a giant chessboard, mahjong, and a game room hidden in the back, it's perhaps not designed for studying (though there are bar tables by the windows with plugins to satisfy your studious and people-watching needs) but better for hanging out with friends outside of the regularly packed cafes on main street or campus. G3's drinks sport the usual, such as a latte, but have a list of espresso beverages, cold press, and a coffee flavor of the day (an endless cup is available if you plan to stick around for a while), and their list of options range from drinks at 2.50 to 4.50. The cafe bar itself is not stocked with food, though recently roasted nuts have been added, but the pretzel stand is just outside and is also owned by the same people as G3's.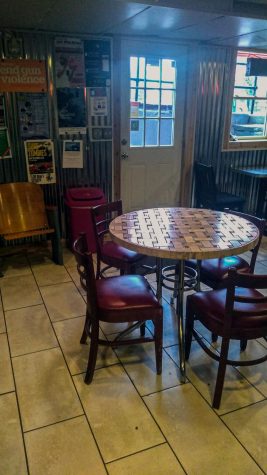 Vinyl Cafe
Vinyl Cafe is small – it's tiny enough it's almost impossible to resist eavesdropping on the surrounding tables because you can hear the whole conversation if it's anything about a whisper unless you shove a pair of earbuds in; though your earbuds would ruin a bit of the aesthetic you get with this basement Cafe, faint train sounds included. The constant stream of music filling the six-table room comes from a record player stashed behind the barista counter, filling Vinyl with a mixture of sounds from rock, punk, jazz, and a plethora of others. Vinyl isn't somewhere for you if you can get distracted easily or you want complete control over the music. It's targeted to the sideline alternative people who find humor in the specialty latte names (the Andy Warhol comes recommended from this coffee addict) and someone else picking the soundtrack. There are regularly some snacks, such as an apple fritter or sponge cake, but the coffee is more abundant.
Clouds
If you're someone who likes to work or study with a spectacular view (even though we live in Ames, Iowa), Clouds is the spot for you. This newly opened cafe has been the talk of the town for a while now and it deserves all the hype. This cafe would get a 10/10 for their ambiance. Situated on the top floor of a building in campustown, Clouds is a place worth your time if you're a sucker for sunsets or skylines. This is the perfect place to hang out with your friends, work on group projects or just cram for an exam the day before. Clouds has made an immense effort in making the cafe different. For starters, it is a European style cafe, where you'd find some unique and specialty dishes focused on healthy options. It has the perfect environment to work on tasks while sipping on some warm coffee. The only drawback that I noticed was that there are always a lot of people in the cafe, especially you're someone who likes to work in a quiet place that doesn't have a lot of people. You have to remember that Clouds is a brand new cafe, it will have a lot of people in the first few months. Overall, this is a must-visit. They are open until 7 PM every day except Mondays.
Morningbell
Morningbell is a crisp, minimalistic and bright coffee shop, the color in the room coming from the array of local art pieces along the walls. On the side of the building, you'll find a brightly painted mural of a hummingbird and flowers done by Iowa artist, Asphate Woodhavet. Morningbell's fair trade coffees make up a large menu, making it a good spot to go and try something other than a simple latte, such as a cortado. It can get pretty busy, but Morningbell has a large area of seating varying from tables to plush chairs next to the windows. It's not unusual to see a handful of people in the cafe studying or doing their work at any time of the day because Morningbell is quiet, but it's equally welcoming to anyone who just wants to sit-down with come coffee and a friend to chat.
Milo
Milo has been an all time favorite cafe in Ames for a while now. It is a perfect spot for studying and sometimes simply relaxing. Cafe Milo has a very typical environment with cozy, yellow lights and the strong scent of coffee all around. Located on the West side of Ames, the cafe has some of the best coffee in town. The cafe is most of the time filled with several people but has plenty of space for more people to join. The moment you enter Milo, you can notice the relaxing vibe it has. It could be the dim string lights, or the typical cafe music but whatever it is gives off a warm feeling. It's an aesthetic cafe, a one you'd take a picture of and post on your story. This might not be the best cafe to work on group projects since it's pretty crowded at most times but if you have to work individually, it's honestly perfect! 

Leave a Comment
Your donation will support the student journalists of Ames High School. Your contribution will allow us to purchase equipment and cover our annual website hosting costs.