Interview 2013: Emily Kresse
Every year some senior asserts himself or herself as being an unusually good role model. For me that senior for 2012-2013 was Emily Kresse. I sat down with the noted intellectual for an intimate conversation in existence, twitter, and aestetics. School and major? I'm going to the University of Iowa to study Political Science. What is the best thing about Ames, and what will you miss? Is it possible to pick just one thing? No, but try. Ames is amazing, probably the diversity and the Cafe. Also the educational opportunities are great. Speaking of education, what books have influenced you the most? Why are these questions so hard? Probably Franny and Zooey by J. D. Salinger. Which seniors do you want to call out for teaching you the most as a freshman? Kuper Bergman, Mary Bunting, Adam Duvick and Nathan Lubinus. We'€™re reading The Catcher in the Rye right now in APLAC and Mr. Webb has been talking a lot about different perspectives on life. What do you think the meaning of life is? There is no meaning to life we've just created the false idea that there is to pacify the fear of nothingness. At this point in the conversation, the topic shifted to politics and Twitter. Your tweets are legendary. Where does the inspiration come from? A genuine belief that I am hilarious, no shame, and a lot of free time. What'€™s the story on @CharlieKresse? That is my magical mutt'€™s twitter feed. I would like to put on record that Charlie tweets for herself. Turning to less serious matters, thoughts on President Bush? President Bush and I have a lot in common, actually, we're both incredibly lazy. I'll just put it this way, you don't want me in office. What about your own political views? I would describe my political ideology as a combination of Leslie Knope and Robert Kennedy. When deciding how to present yourself to the outside world, what factors do you consider? How do you express your sense of fashion? Whatever is clean and doesn't smell like Hickory Park.
Leave a Comment
Your donation will support the student journalists of Ames High School, and Iowa needs student journalists. Your contribution will allow us to cover our annual website hosting costs.
About the Contributor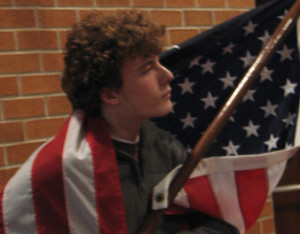 Christopher Jackson, Reporter
Christopher Jackson is a senior at Ames High School. A three-year member of the Web, he writes about student issues and has been compared alongside his...