Students Rally for Climate Action
This past Monday, October 25th, students took the streets to demand climate action. Members of the Sunrise Movement, CAUSE (Citizens Actualizing and Understanding Sustainable Environments), and ISU's Climate Reality Campus Corps met alongside concerned parents outside the doors of city hall to make their goal clear: achieving carbon neutrality by 2030. 
"We're here to… make sure that the action plan that the city is creating actually reflects what citizens and youth want." – Leslie Kim
Many of the attendees had been at previous Town Hall meetings, arguing for a bold climate-action plan to be implemented. A couple of weeks ago, CAUSE succeeded in having the city council pass a resolution on the matter. Now, as the City of Ames has begun to meet with their consultant, students see an opportunity to push their plan. 
Prior to the event, an Ames High graduate studying at ISU, Hector Arbuckle, led a discussion with AHS students. He identified the major sources of pollution in Ames, including the ISU power plant, residential energy usage, and transportation. He also explained that a combination of zoning laws and infrastructure layout has made the city of Ames, as well as most North American cities, less sustainable. 
"We are the future of Ames, and we deserve a planet that is safe and healthy." – Hector Arbuckle
Hector mentioned some of these points later in a speech to the larger crowd. He then handed off the mic to a fellow ISU student, Cai Maurice, who spoke of the impacts of climate change (specifically Hurricane Dorian) on his parent's hometown in Jamaica. Upperclassmen Ava Anderson and David Lee also spoke at the event, with the latter sharing a spoken word poem with the crowd. 
"I'm concerned about climate change, concerned about their future." – Jeremy Withers, ACSD father
The Web also spoke to several other students who shared their motivations and aspirations at the rally. 
AJ spoke for the Sunrise Movement as well as themselves. 
"Well, Sunrise is our club that we started this year. It is like my baby… And climate change is a big problem- you probably have known about but it really hit this year. [Something] needs to be done and this is the best way I know how." 
David Lee, a leader of CAUSE, emphasized the uniqueness of the moment. 
"A protest or a rally is always a good way to get people inspired on creating change."
Senior Ava Anderson left behind a message of hope for those who feel disillusioned by our current environmental state. 
"Sometimes it feels like you can't do anything. You hear it again and again, even if you're doing things at home, even if you're changing things within your personal life, it's not doing much. So to be here, and with the possibility of a climate action plan that is bold… to get net-zero by 2030 at a city level is a huge deal. So I think it's important to be here." 
The event finished off with a series of chants while students faced the street and lined the entrance to city hall. Both their signs and voices made their passion unmistakable.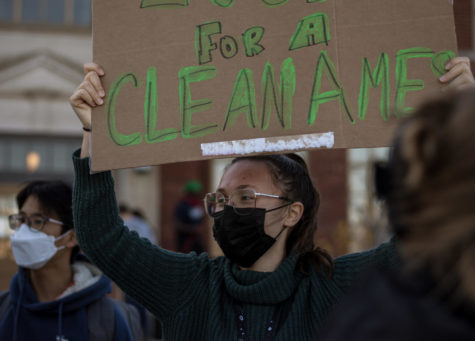 As senior Libby Gens eloquently put it: 
"I really would like a planet to live in for the next, like, forty years. That'd be really swaggy."
Leave a Comment
Your donation will support the student journalists of Ames High School, and Iowa needs student journalists. Your contribution will allow us to cover our annual website hosting costs.
About the Contributor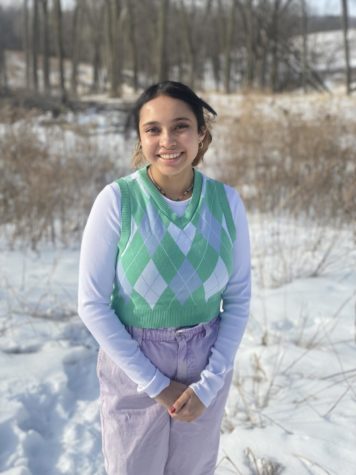 Sophia Cordoba, Editor-in-Chief
Sophia Cordoba is a senior at Ames High, and more importantly, Editor-in-Chief of the Web. Amongst other things, she enjoys keeping up with the news despite...