Tasty Tuesday: A Daytime Review
On October 26th, The Web took a field trip to Daytime Diner, a recently-opened cafe/diner in West Ames. While the staff unanimously agreed that the vibe was impeccable, we had mixed reviews on the food itself.
Lavender Matcha – Calia
Green vinyl booths, the smell of bitter coffee, paint marking down white brick walls. All distinct symbols of Daytime Diner, and their Matcha collection, albeit small, has been a staple in their cafe. When I walked in, it was the first thing that caught my eye on the menu above the barista's head. I love matcha, and I love lavender, so at the time they seemed like the perfect combination. I got my drink, and from the outside, it looked pretty standard: pale green, with a straw, with ice cubes floating by the top. Naturally, I tasted it, and my first thought was, 'where is the lavender?' I tasted it again, and again, and I stirred it up, and yet… still nothing. I was tempted to go ask the barista if I got the correct drink, but alas, I satisfied myself by asking the people around me who ordered the same thing as I did, and the answer was yes, it was the right one. Not only could I not taste any lavender at all, but the matcha was incredibly faint as well. The sole thing that came through was milk. I believe that it may have simply been an off-day for the maker, seeing as people recommended it to me before and said that they loved it, and because of this, I give it a 4/10.
Lavender Matcha – Sophia
As the one who recommended this drink to others, I was both ashamed and disappointed. I had visited this diner just two weeks prior and been incredibly pleased with this very same drink. The barista had been very knowledgeable, and produced the smoothest matcha I have ever tasted. I hope my next trip to Daytime will produce that same charm once again. 
Overall rating: 5/10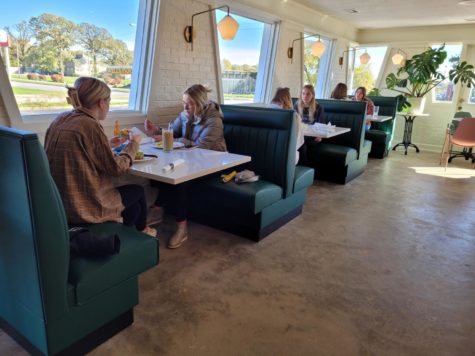 Milton Monroy Cold-brew – Sam
There was something about this savory cold-brew that was different from the others I have tried. The best way to describe it is like when you eat a bar of really dark chocolate, 75-90% cacao, and it leaves that waxy flavor aftertaste. It almost tastes like you ate a raw cacao nib and it just doesn't really go away. In the most appetizing way, this cold brew tasted like cacao nibs. Likewise, the portion of cold-brew to ice was everything I could have wished for. The ice didn't water down the coffee nor did it overtake the volume of the cup. Overall I would give the "Milton Monroy" cold-brew from Daytime Diner.
Overall rating: 7/10. 
Hot Latte w/ Almond Milk – Leola
As the weather gets colder, iced drinks aren't as desirable to me. It was a 50-degree day, so I decided a hot latte with almond milk would be suitable. Since it was already warm in the building, an iced latte would have been equally acceptable. Understandably, there were multiple orders to be prepared, but it took a good 10 minutes to make the latte. Thus, if you're in a rush, a hot drink might not be the best option. The coffee itself was moderate. It deserves a 10/10 for appearance, but I wasn't as fond of the taste. I love black coffee, but for a latte, I like to be able to taste the milk, and this was a bit dull.
Overall rating: 7/10.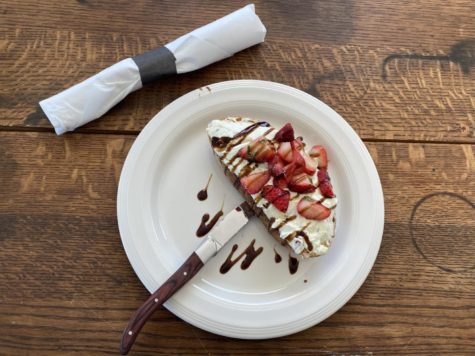 Strawberry Goat Cheese – Calia 
Cheese. Strawberries. Bread. What can go wrong? The answer is a lot. The cheese can be too salty, the bread too tough, the strawberries squished to the point where they're more mulch than topping. Here is where Daytime Diner stands out: everything is exquisite. This Instagrammable spot has been kind enough to provide a beyond delightful spread, consisting of goat cheese laid out on white, fluffy bread and topped with sweet pieces of chopped-up strawberries. Dark balsamic vinegar is sprinkled on, creating a stark contrast with the help of a fine-wine-like taste, tart but not unpleasant. I bit into it, and not only did the cheese melt in my mouth, but the fruit provided an explosion of fresh air, and the bread was pleasantly chewy. Before I tasted this, I didn't know I liked goat cheese at all. In fact, I thought I hated it! Now, however, I can see how wrong I was. I give this a 10/10, high praise from a picky eater.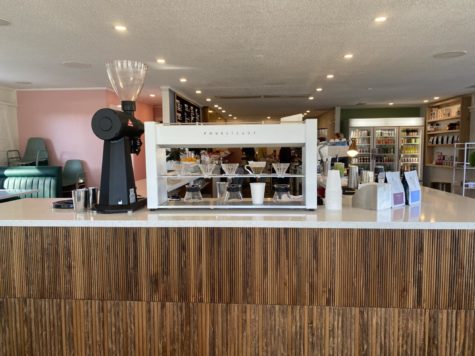 Iced Maple Latte w/ Almond Milk – Sofia
When I walked into the diner I felt like I was transported into my Pinterest board. The fun wallpapers and colorful greenery undoubtedly enhanced my experience. With the extravagant menu, I was overwhelmed with choices. Unable to decide, I resorted to ordering a classic vanilla latte. Unfortunately, however, they don't supply the commonly-ordered vanilla syrup. I went with maple as a second choice. It came quickly after I ordered. I was happy but not super impressed. I couldn't really taste the maple and it turned out to be a pretty average latte. Though the coffee might have been run-of-the-mill, the beautiful decorations definitely lived up to all my expectations.
Overall rating: 8/10
Chocolate Chip Cookie – Varun 
I originally was not planning on buying anything while I was there, but spurred on by everyone enjoying their food, I decided to get a cookie. The cookie was decently big and pretty tasty. The chocolate chips really made it sweet, but not overly sugary. The cookie also crumbled quite well, yet kept a solid texture. I do feel however that $2.68 for the cookie is a bit much, maybe $1.75-$2.
Overall rating:  7.5/10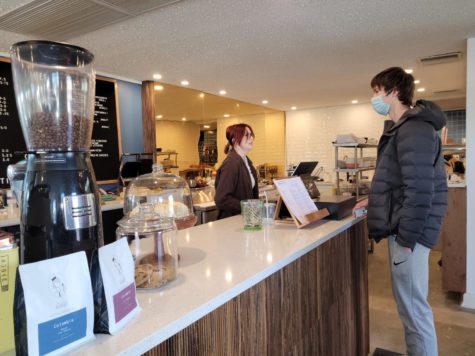 Milton Monroy (was supposed to be cold brew) – Humza Maqsood
Unfortunately, not every review is hunky-dory, and as such, the burden of giving a bad review falls upon my shoulders. Since I got a different drink than I was supposed to, I'll instead review the hot drink that I got, but I must take off points for messing up my order. My drink, which I believe was a hot version of the Milton Monroy, was in fact quite bitter, yet complemented by the lingering slightly earth aftertaste. The first few sips were forced past my lips, but as I went on, my taste buds became acclimated to the bitterness. The earthy drink was fitting for the establishment full of plants and gently post-modern decor. The drinks are great, but the service could be a bit better. 
When I was up to order, I wasn't in the mood for a hot drink, so I observed their cold brew section. "El Meridiano" and "Milton Monroy". I asked for the "El Meridiano", and was met with a slightly condescending expression. "Do you have any experience with coffee?" asked the barista. "Yeah, a little bit", which is true. She responded with an exasperated "so no experience". It may have been somewhat true, but it still stung a bit, which isn't good to feel as a customer. She told me I would be better trying the Milton Monroy, with some milk to temper the drink. I happily agreed and paid my fees.
It took a while, but I didn't mind the wait. I was chilling with the rest of the Web, who seemed content with their orders. I made eye contact with the barista when she came to the pick-up section and called out, "Milton Monroy". When I grabbed my drink, instead of a chilled drink, I had received a blisteringly hot drink with not a single drop of milk.
Americano – Jack
The americano had espresso but it tasted pretty watered down. Maybe it was a weaker brew or just a lot of water but it was a little lackluster. It was served in a really cute cup so the presentation gets a 10/10.
Check out @ameshighweb on Tiktok for another look inside Ames' latest brunch and study spot.
Leave a Comment
Your donation will support the student journalists of Ames High School, and Iowa needs student journalists. Your contribution will allow us to cover our annual website hosting costs.