Tasty Tuesday: A Starbucks Review
Starbucks is notorious for annually jumping the gun with the release of Holiday items. As early as November 4th, various Christmas drinks, cups, food, and decor fill stores across the nation. The new variety of sweet festivities brings excitement to all true coffee connoisseurs. As experienced journalists with extremely well-respected opinions, it was only fitting for us to give our say over this year's assortment.
Toasted White Chocolate Mocha- Jack
If you're looking for a sweet, hot coffee drink this is for you. It reminds me of a graham cracker but in drink form. It's cute, hot, simple, and sweet. The atmosphere is welcoming and the drive-thru is a nice addition! There are plenty of comfy places to sit and good lighting for studying. Although I'm not too sure Ames needed another Starbucks, we'll take it. 8/10
Chestnut Praline Latte w/ almond milk- Leola
This was my first time trying a Starbucks holiday drink, and with the popularity these items hold, I had high expectations. My order was a Chestnut Praline Latte with almond milk (hot). The appearance was jolly, as it came in a red holiday-designed cup. A dash of praline crumbs was sprinkled lightly over the whipped topping to add texture and decor. The drink had a sweet, nutty flavor to it; when I stumbled upon a praline crumb, it was even more prominent. Sometimes I'll order a drink that's sweetness overrides the coffee flavor, but this drink was a perfect balance of coffee and flavor. I will be ordering the Chestnut Praline Latte again. 
Overall rating: 9/10.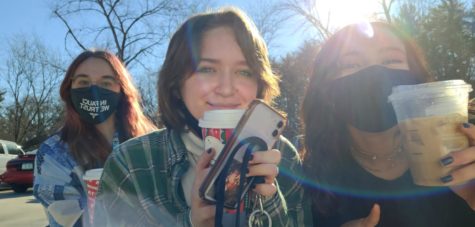 Chestnut Praline Latte- Calia
One word alone can describe the Chestnut Praline Latte: cozy. I was the unfortunate soul who burned their tongue the first time they took a sip of their drink. Therefore, I couldn't taste any of the flavors the first time I tried my drink. Foolish of me, I'm aware. Naturally, I went back to Starbucks after a few days of licking my wounds. After I took my first sip out of my holiday special cup, the first thing that hit me was the nutty flavor. When it comes to this drink, creamy is not the right word to describe it. Rather, it is buttery, and the smooth texture is enhanced by the high temperature. Hints of smokiness hit next, saturating a flavor that suggests crisp chestnut peels and creating the vibe that is akin to a cold night in front of a fireplace. It is definitely my favorite winter beverage. 
Overall Rating: 10/10.
Iced Sugar Cookie Almond Milk Latte – Sofia
Ever since I saw images of this new iced latte across websites and advertisements, I couldn't wait to try one for myself. As an avid coffee drinker, I am fairly familiar with the regular selection of latte and cold brew flavors at Starbucks. I had never seen a flavor similar to sugar cookies so I respected the originality. The drink comes with red and green sprinkles on top, adding a good crunch and a festive decoration to the drink itself. I was definitely not disappointed with the flavor and I would order it again. It wasn't too sweet while also still being sweet enough to enjoy. Although it didn't really taste like a sugar cookie it didn't matter to me. Bonus points for the almond milk.
Overall Rating: 9.5/10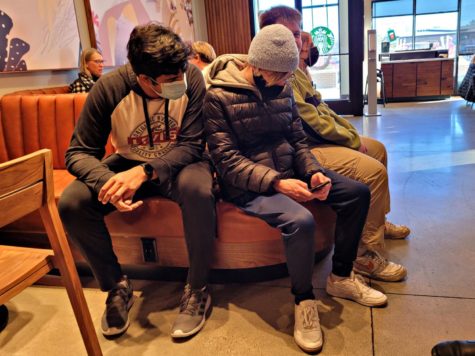 Vibes – Sophia
While I'm not a huge fan of the Starbucks franchise in terms of coffee quality, it's undoubtedly convenient, so I end up buying from here quite a bit. Starbucks' usually blend together, but the North Ames Starbucks has always stood out to me. From leaving notes of "Have a nice day! :D" on egg white packages to cheerful greetings at the counter, the staff goes above and beyond to make people feel welcomed. Efficient and kind: all a customer could desire. As for the decorations, they're pretty mid. Snowflakes made out of receipts? A valiant recycling idea, but perhaps not the most stylish. Regardless, its proximity to the school and well-kept tables make it a nice mid-day retreat for upperclassmen with a few free periods in their schedule. 
Overall Rating: 7/10
Irish Cream Cold Brew – Sam
I didn't go with the rest of the group when they went to review Starbucks' holiday drinks, but I would consider myself thoroughly experienced with some of the holiday drinks. Almost every morning last winter I would get the Irish Cream Cold Brew which made a comeback this winter. No matter how cold it was outside, the perfectly smooth cold brew with the sweet foam on top that almost tastes like frosting is perfect for any day. When the cream mixes with the cold brew, you can still taste the coffee. I like the taste of coffee, hence why I order a cold brew, but sometimes it is nice for the wild taste to be whittled down a little bit. I think it is the perfect mixture of cold brew/coffee taste and sweet cream.
Overall Rating: 10/10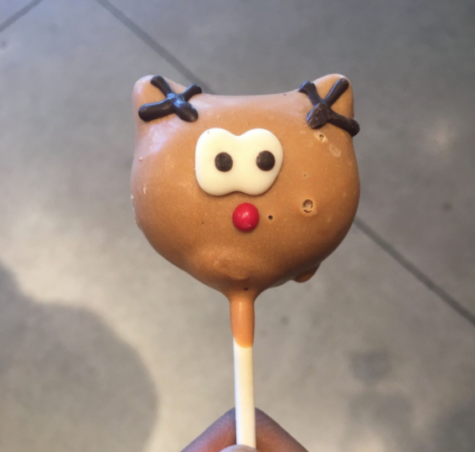 Reindeer Cake Pop – Varun
I am not one who seems to enjoy coffee shops. I don't really enjoy coffee right now, and everything seems to be sweet-based. I was nudged by my fellow WEB staff members to sample something holiday-related. That happened to be cake pops. Not just any cake pop mind you, but a reindeer one. I decided to buy one, and it was not cheap, with a final price including tax around $2.90. I took a bite and I was surprised to say a bit. First of all, I didn't expect the cake filling inside to be quite so dense — I assumed it would be very airy. Second, it wasn't as sweet as I thought it would be; it was more like the sweetness of the bread of a cake rather than the sweetness of say, a cookie. It would be a much more tempting offer if cheaper.
Overall Rating: 7/10.
Peppermint Mocha – Humza
I'm a huge Mint Chip Ice Cream guy, so this was a pleasant surprise in a drink. I saw mint on the menu and instinctively ordered the drink. Thankfully it was a worthwhile impulse buy. It came in a holiday-themed cup with jolly designs covering it. The whipped cream on top had a light sprinkle of red sugar. Since it was a cold drink, I was able to enjoy it right away which is always a plus when you're thirsty. The mocha flavor was coupled nicely with the peppermint flavor. The peppermint paired nicely and wasn't overpowering at all, but the drink gets a little bitter after a while. 
Overall Rating: 8/10
Leave a Comment
Your donation will support the student journalists of Ames High School, and Iowa needs student journalists. Your contribution will allow us to cover our annual website hosting costs.