Peter: A Reverse Exchange Student
There have been many students who have transferred to AHS from other nations, such as the Philippines and Turkey, yet how often is it when a student from AHS transfers to another country for school? Well thankfully, we have a student right here at AHS who is set to take that journey.
Peter Marshall-Gilbert is a senior at AHS. He enjoys playing the cello, swimming, and playing bass guitar. He is also involved in student politics at AHS, as a member of Young Dems. Peter is set to graduate before the end of the semester. Currently, he is also planning on attending Windhoek International school in Windhoek, the capital of Namibia. 
Besides visiting France and Germany when he was little, this will be his first time going abroad. Naturally, he is quite enthusiastic for the opportunity to see a new country. The original plan was that he would have been in Namibia, if not for Covid, last year. Thankfully, this has not put a dent in his future. 
When he arrives there he will already have a diploma from AHS, ensuring that he can spend the Spring 2022 semester, fulfilling four-year course requirements in English and German, as well as history and science.  He can also spend time getting to know fellow students  and not worrying as much about working or gaining enough credits. During his time there, he would like to get a work visa and complete an internship. 
"I'm really hoping I can get an internship [at the US Embassy]," says Peter, as he's interested in foreign policy and diplomacy.
The visit presents not only an opportunity for Peter, but for his family as well. Peter's mother, a professor of education at Iowa State, is traveling to discuss ISU's current approach towards diversity and how to improve it. She has received this opportunity through the Fulbright Program, a program that allows U.S. citizens to "increase mutual understanding, and support friendly and peaceful relations between the people of the United States and the people of other countries." 
Peter wishes to attend college when he gets back around December 2022- January 2023. Then, he hopes to attend Vanderbilt University, likely majoring in human and developmental studies. 
Some people have expressed worry about his safety because of their own ignorance about Africa.  He, however, would like to stress that he will be fine living abroad. "Yes, well, I'll be fine," Peter says. "There are plenty of people there. They speak English. The cities are nice."
It is certainly not easy to leave one's home behind, particularly for an extended period of time. Fortunately, Peter is taking it in stride.
"I'll be showing up to Namibia with a clean slate, which, I mean, that's exciting," Peter says. "I get to meet plenty of new people. But it'll be a shift for sure."
View Comments(1)
Your donation will support the student journalists of Ames High School, and Iowa needs student journalists. Your contribution will allow us to cover our annual website hosting costs.
About the Contributor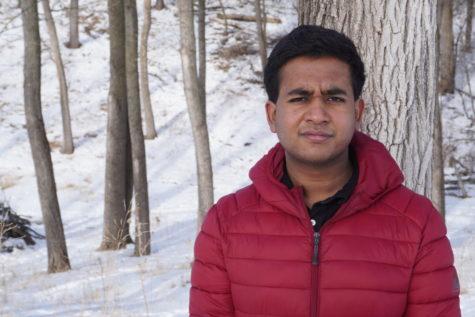 Varun Prasanna, A and E Editor
Varun Prasanna is a current senior at Ames high. When he's not stressing out about school, he likes to play video games and tennis (both of which he sucks...