Girls iBall: Will the Legacy Carry On?
Christmas, New Years, Valentine's Day…. there's much to celebrate in the winter. However, many would argue that these days pale in comparison to the main event: iBall Season. Starting in December, groups of friends form group chats, brainstorm t-shirt ideas, and head out to the gym to practice shooting hoops for the big night. Each team then plays a shortened version of basketball— on a half-court and with half the playing time of a regular basketball game. 
While most of the school hadn't had the opportunity to see intramural basketball in action prior to this year, the seniors took the season in stride. In the case of the girl's iBall, the seniors carried the whole tournament, making up two of the three teams in the bracket; a real loss for the underclassmen, considering the glowing reviews left by players from every team. 
"I absolutely love playing iBall. I like that you don't have to be super great at basketball, you can just show up and have fun and play… no one judges you for the amount of skill and ability you have…  everyone's just there to have fun," explained Preksha Sarda. 
Sammi Schaben furthered this sentiment.
"I enjoyed playing on a team. I love playing sports so I loved getting to play something without actually committing to anything serious like an actual team. It's fun to play with friends who also have no clue what they are doing."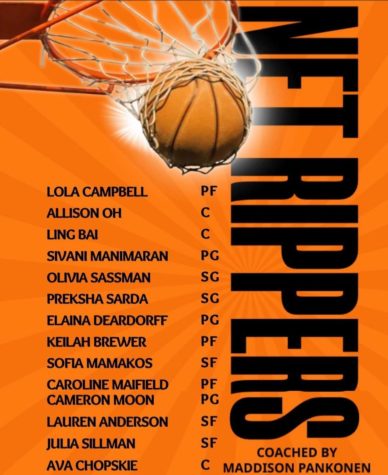 iBall provides a strange but enjoyable combination of no pressure and high stakes. An exchange between two players from Dream Team DWS perhaps captures this energy best.
Alexa Kopaska: "It is the most fun experience, one of the more fun experiences I've had at Ames High."
Olivia Smalley: "It's fun because we're also so bad, but we're also competitive."
Alexa Kopaska: "Everyone is terrible and it's hilarious. And there's also no pressure to do well but also you have to win."
While some girls have had prior training in the sport, most agree to be playing for fun. There were no die-hard fans of the NBA or NCAA of the ladies I interviewed, however, a few keep up with ISU's men's basketball team. In general, it doesn't take intense training or knowledge of the game to make your debut on the court. 
When asked about any previous experience, Sarah Andrews told me, 
"No. Actually yeah, I used to play HORSE with my dad."
Another important aspect of the iBall spirit is team names and t-shirts. Perhaps most infamous of the outfits is the Net Rippers' shirts, which depict a cat dripped out with a crown, chains, and a basketball upon a black background. Team shirts are both a statement and a source of pride. 
"It's bomb. It's perfect. Have you seen it? It's a cat. It's a baller cat. That's all there is to it," said Olivia Sassman. 
The softball team, which has a tradition of forming an iBall team every year, was decked out in their own special outfits as they won this year's tournament. Olivia Smalley explained the origins of the uniform. 
"They're old softball jerseys that are shorts and tank tops. Very bright silver softball jerseys. You won't see these on the field."
Though the girls were excited to spend their Wednesday nights on the court, this year, they continually had to play against the same teams. Unlike the boy's division, which reached the limit in the number of teams allowed (10), the girl's division hardly had enough teams to form a bracket. The players identified a couple of potential causes for this drought. 
"I think a lot of people don't know about it, since we didn't have it last year," explained Sofia Mamakos. "A lot of underclassmen don't know about it. I guess a lot of people have other commitments. And I feel like girls basketball isn't very popular at Ames High. They're on the team if they like basketball, otherwise, they don't care for basketball." 
Brylie Anderson offered a similar opinion. 
"It seems that there is an issue with underclassmen wanting to get involved in anything since they haven't really had a 'normal' Ames High experience… The seniors are the last class that was ever under the Spence Era (a reference to our former principal, Spence Evans). I hope it will survive but it'll take the juniors stepping up to carry on traditions." 
Olivia Sassman identified a more systemic problem, which might explain the girl's division has always been less popular. 
"I heard a lot of girls that they were worried that the boys would make fun of them or judge them in that environment and they weren't wrong. A lot of boys did that during the season, so maybe we need to work on that… I think if more girls could be convinced somehow to join it would thrive cuz it's so fun. It just needs a slightly less toxic environment."
Whether the problem comes down to the pandemic, school spirit, or gender norms, there is no avoiding the fact that the future of Girĺ's iBall might be in danger. Luckily, this year's players are happy to encourage others to compete next year. This year's champions were particularly optimistic about the matter. 
"We gotta just spread the word more. Whoever wins this year, the t-shirts and the posting, people will want to join once they see it," said Olivia Smalley.
Alexa Kopaska offered more aggressive motivation. 
"See you on the court. You're gonna die."  
View Comments (5)
Your donation will support the student journalists of Ames High School, and Iowa needs student journalists. Your contribution will allow us to cover our annual website hosting costs.
About the Contributor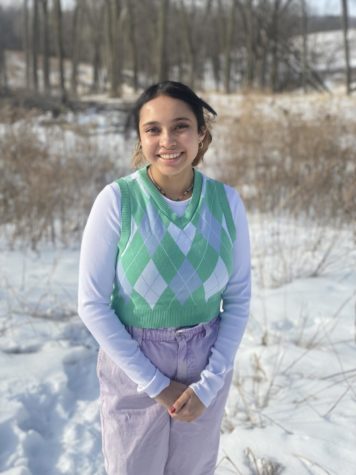 Sophia Cordoba, Editor-in-Chief
Sophia Cordoba is a senior at Ames High, and more importantly, Editor-in-Chief of the Web. Amongst other things, she enjoys keeping up with the news despite...