Heather Spangler: Where is She Now?
As my Web career comes to a close, it's hard not to wonder what I will remember from this class in 20 years. Will it be DJ's kind-hearted nature, or memories of Leola bullying our innocent, wholesome Varun? Possibly it will be the cereal parties or the coffee runs that always kept me going through the shallow abyss of my senior year of high school. I would prefer to remember my third-period class that way, as a ray of sunshine amidst my ruthless schedule, though that is not completely true.
This week the current Web staff began the tradition of painting bricks on DJ's wall. As the final writers to ever do so on these walls, it has begun a bittersweet goodbye to a long-standing tradition for Ames High Journalists. To commemorate the 30 years of brick painting, I find time to admire the artwork of my predecessors. If you regularly tune into my Web articles you may remember headlines titled "Madeline Topf" or "Serena Paulson", two former brick-painting Web Editors that I previously featured. Today, however, when my eyes were scanning the detailed wall of paint they moved past Serena and Madeline's bricks and wandered towards the older bricks. Cut off by the apparent lowering of the ceiling since the creation of the brick, the word "spirit" barely emerged beneath a ceiling tile that I have since removed. Upon further investigation, I somehow got ahold of the Heather Spangler, an Editor-in-Chief from 2002 and creator of the blue spirit brick. When asked about her experience on the Web, Mrs. Spangler was vocal.
"I was on the Web staff for two years–one year as a section editor and one year as the Editor-in-Chief. I feel like I really found my voice in the Web room. I was always shy in school but I loved to write. So to be able to share my writing and ideas with my whole school and beyond was a big leap and a big confidence booster. I remember a lot of late nights when we were editing and laying out an issue on deadline. It was exhausting but also fun to be the only person in the building doing something that felt important."
While Mrs. Spangler created a lasting impact in her younger years she certainly did not peak in high school. 
"I attended the University of Iowa, where I majored in journalism. After undergrad, I was a newspaper reporter and then attended graduate school, also in journalism. I'm now an associate professor at the UI School of Journalism and Mass Communication."
Along with these journalistic accomplishments, she was also recently named the School of Journalism's Easton Professor for Exceptional Teaching and earned the 2022 College of Liberal Arts and Sciences Outstanding Outreach and Public Engagement Award.
As a real-life successful journalist, Mrs. Spangler's credibility is off the charts. In awe of her achievement, I asked for some advice for life as a beginner, hoping to gauge any level of inspiration from my newfound role model.
"My best advice is to share your goals and ambitions with the people around you. It will help you keep striving and you'll likely find that you have a network of people who want to support you. Also, be nice. It always feels better and serves you well in the long run."
Though Mrs. Spangler's brick is cut off by a ceiling rod, and will soon be demolished in the months to come, her message is something that will stick with me forever. Her advice on creating positivity and connections is something that I hope to emulate in my future journalistic and life endeavors. Though they are simply bricks, with paint chips and scribbles, they continue to illustrate a much greater cause. Of unity and friendship, of years past and years to come. How we are all connected in some impossible way. 
"The Web" is simply the name of our high school newspaper; its importance sounding miniscule in comparison to much else. Yet to me it represents how life is like a Web, and our bonds are what we need to hold it all together. Journalists have a duty to unite through the truth. Possibly the greatest thing I've learned from my time writing for The Web is how a voice can be used in two ways: For the greater good of others, or for one's self-interests. When we enter a world beyond high school, our future profoundly lies in the hands of what we decide. Thank you, Mrs. Spangler and alumni, for igniting a legacy that will continue to bring generations together for years to come.
Leave a Comment
Your donation will support the student journalists of Ames High School, and Iowa needs student journalists. Your contribution will allow us to cover our annual website hosting costs.
About the Contributor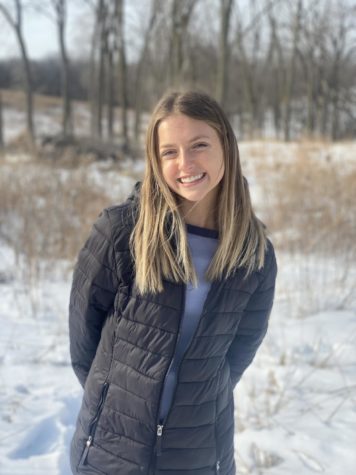 Sofia Mamakos, Editor-in-Chief (Outreach)
Sofia Mamakos is a Senior at Ames High who joined the Web staff in September of 2020. Sofia enjoys being the Senior Drum Major for the Ames High Marching...