Ames High travels Coast to Costa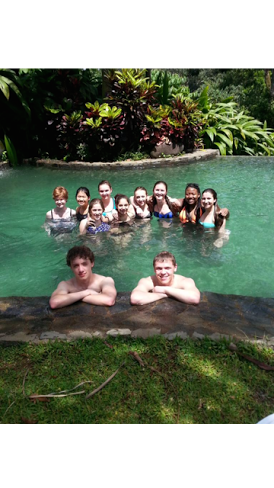 Over spring break, 14 sophomores went on a science trip to Costa Rica. The trip was organized through the company Worldstrides. It would be easy to think that this trip would be filled with down time on the beach and hanging out with friends, but it actually let students explore science and learn in such a cool place.
The educational parts of the trip included a bat tour, collecting water samples for testing, a seed experiment, bird watching, and going to Cloud Forest Biological Reserve.
"You learn so much more than you would think," said sophomore Alyssa Cano.
The group enjoyed a wide variety of activities ranging from cooking and dancing, to white water rafting and hiking a volcano. Along with these activities, the students were exposed to the poverty of the country while driving through provinces. "It opened my eyes to see how fortunate I am, and to see how happy all of those people are even though they are less fortunate," said sophomore Zoe Hamstreet.
Although this was primarily a science trip, it tested the students in Spanish 2 to use what they have learned and deal with the language barrier. "It was a great learning experience not only for the science, but also to increase your Spanish vocabulary and learn about the culture," said Hamstreet.
All 14 students and the famed chaperone Mrs. Jurgensen have made it back alive and full of stories and excitement. As long as the trip keeps getting support, it is likely that it will continue to be an opportunity.
"Overall it was an amazing experience visiting another country with some of my closest friends. I would definitely recommend this trip to others! You could say it was a life changing experience," said Cano.