David Lee Senior Column: Words, words, words. How to not lose meaning behind the words you write.
Words are simply… ethereal. 
720 days, is all it took to understand how empowering words can be. Like Dr. Seuss, I learned that I could create words, and attach a meaning to them as simple as snapping a finger. Like the Little Prince, I learned how to remember how to evoke meaning behind the mental pictures we take—seeing a star and remembering that there may be a friend, laughing and tending to his volcanoes up in the night sky. Like Amanda Gorman, I learned how to create a mantra, and repeat it to myself whenever I felt like I couldn't see my dreams anymore. 
Words empowered me to take risks with talking to random strangers. They mended me when I failed from being accepted to any of the 21 colleges I applied to besides ISU and U of Iowa. They took care of me my senior year when I lived alone without my parents and struggled with understanding how to maintain a healthy balance in my life. But I can't show you everything that words have done for me, nor do I want to. You have a different path to take in your high school years. You probably aren't an immigrant or an international student or a senior living with a roommate or watch Yes Theory or go off on an adventure to Minneapolis and sleep at some random stranger's home, make pancakes for them for breakfast, and go on a run with a 7 month-old named Shiloh. Odds are, you will never even have met me, let alone, share an adventure with me. So, this is my last message I want to share with you. It was my senior year original oratory for speech competition, and I hope it brings you some clarity with the art of crafting words to empower your personal progress.
Original Oratory: Manifesting the Life You Want to Live
"Come home with me! [I'm] the man who's going to marry you! I'm Orpheus." When I first heard these lyrics, I was imagining Orpheus to be a delusional lunatic who's naivety was comparable to that of a kindergartner, deeply in love on the first day of class. Thankfully, this scenario is fictional and part of the broadway phenomenon, Hadestown, recounting the ancient Greek tragedy of the two lovers, Orpheus and Eurydice. 
As ridiculous as Orpheus' first encounter/date/marriage proposal was, I couldn't help but be captivated by this frightened little dreamer with absolutely no sense of how the world worked, much less how to talk to girls. No matter how silly and unrealistic his dreams were, he never gave up, taking risk after risk after risk. As the story went on, I began to realize Orpheus wasn't delusional. He saw the obstacles in front of him, the treacherous walk to Hadestown, the demons of the underworld ready to rip him into shreds, and the fates whispering doubt into his ears. But he refused to be tied down by the expectations of society, a mentality we often forget to practice in our lives.
To begin our journey of manifesting a life we want to live, we need to look no further than the story of Orpheus, and GenZ's favorite source of credible information, YOUTUBE. First, we will learn the cost of not taking risks. 
Second, we will look at Three steps you can take to ensure you pursue your dreams. 
And third, we will take a risk together and put what we learned into practice. 
As TedEx entrepreneur Bill Eckstrom says, the cost of not taking risks is simple: stagnation. Never having taken a risk, never having felt heartbreak, means  never having truly been vulnerable in love. Never having explored the unknown means never having acquired new knowledge or experience. Never having chased your dreams means you'd still be standing where you started a lifetime ago.
Risk taking is inevitable when pursuing your dreams. Fail to do so and palliative carer Bronnie Ware's book The Top Five Regrets of the Dying, shows us what people wished on their deathbeds.
Having the courage to live true to themselves

Not working so hard

Having the courage to express their feelings

Staying in touch with their friends

And Letting themselves be happier regardless of other people's expectations or opinions
All five are tied to the idea that risk-taking is essential to pursuing your dreams, and the more you take risks, the more fulfilling your life will be.
By studying the character of Orpheus, there are three obvious steps we can take to become unapologetic risk-takers. 1. Visualize. 2. Start today. And 3. Dream with the people you love
The First of Three Steps
Visualize what your dreams look like once you have achieved it
For this exercise, I want you to close your eyes. Now remember back to a time, when you felt a youthful innocence about the world. Remember the naivety you had about pursuing the dreams you could see so clearly in your mind? Channel that naivety once more. Think about a risk, a dream, or a fear you've wanted to overcome for so long and imagine what life would be like if you could just take the risk without thinking twice. Forget about the obstacles, and visualize the world you dream about. Now open your eyes. 
The Second Step is to 
Start right now
The hardest part about achieving your dreams is getting started. David Goggins, an ultramarathon runner and retired navy SEAL says "There is no perfect time to start. You just have to start now." The longer you stall, the more overwhelming your doubts will become. And who knows if you'll get a chance tomorrow? So "Carpe Diem!" I say, "Start today and Seize the Day!"
We arrive to the Last Step with the wisdom of Harvard professor Robert Waldinger and his longest-ongoing study on human happiness
Surround yourself with the people you love most. 
When you are aiming for the stars or taking a leap of faith, you will inevitably fall at one point or another. You will crash and it will hurt you. A judge at a competition might tell you you're not good enough. Your best friend you were in love with might tell you they can't say the same. And like me, you might learn that the Korean fried chicken you tried making alone might not taste as delicious as your mom's, even if you took four more hours than it should have. But in these moments of hopeless desperation, when you can't see your dreams anymore, when the chicken is too dry, your loved ones can catch you as you fall, embrace you, tell you that they love you, that they believe in you no matter how far you get, and offer to eat your Korean fried chicken, no matter how mediocre it may be.
In Hadestown, the true power of Orpheus is not his god-given ability to sing, but rather that he "sees how the world can be in spite of the way that it is." And so, when his voice falters in the presence of the Hades, God of the Underworld, his dream of a future with Eurydice is what keeps him going. Ultimately, Orpheus fails to make it out with his beloved alive, and yet his legacy, the tragedy of a dreamer lives on. 
Regardless of if we live to see the world we dream about in our lifetimes, we must start today, so that the people we inspire, the people that love us will follow in our footsteps in years to come. And they will raise their drinks to celebrate the vision we set in motion, just like we do for Orpheus, today.
So let's practice, and take a bit of a risk, right now. We're strangers, you and I, and the world has told us more times than we can count that strangers are dangerous. But I believe in a world where strangers are just friends we've never met. When I see you, I see a lifetime's worth of stories and lessons I may never experience. And I want to learn. So I'll go first.
Dear Stranger,
My name is David. My Korean name is 이성재. I am a poet, I dream of writing a musical, I love my friends more than I can imagine, and I like Korean fried chicken. 
I come from a family risk takers and that taught me Words have the power to manifest ideas into reality
And so I am saying these words and reciting this speech
To remind myself that I can be whatever I want to be
That I have the chance to dream
And isn't that what it means
to be free
I believe who we want to become is more important than who we are now, and so in honor of Orpheus and Eurydice
Come with me to the land of the dreams, take a risk with me, and tell me
What is your name?
And what does the world you dream about look like?  
Leave a Comment
Your donation will support the student journalists of Ames High School, and Iowa needs student journalists. Your contribution will allow us to cover our annual website hosting costs.
About the Contributor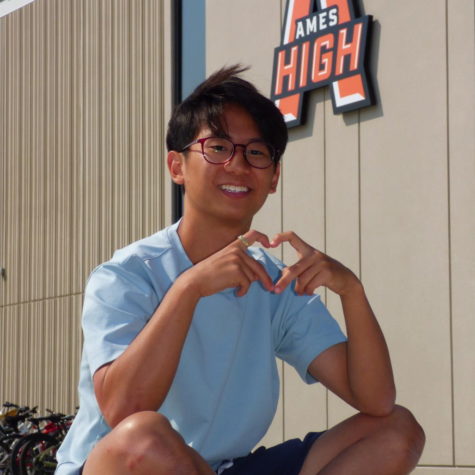 David Lee, Multimedia Editor


David Lee is a senior at Ames High. He joined the Web as the multimedia editor in 2022. This year, he plans to expand the Web into the videography...