Spring Play Heats Up The Down Staircase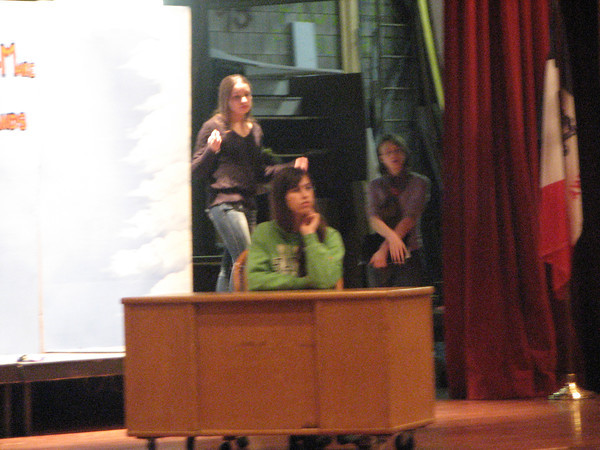 Ames High'€™s drama department never sleeps. From the tech crew which keeps the auditorium pristine to the acting corps that bring the energy, the program headed by teacher Steven Woolery never stops going. The spring play has long been a tradition at Ames High. This year'€™s play is Up The Down Staircase, starring the likes of Miranda Maher, Jamie Steyer, Emily Linch, Conor Johnson, Melissa Jones, Tanner Wahlin and Kevin Hanlin and many more. Up The Down Staircase, originally written by the centenarian teacher and author Bel Kaufman, tells the story of a young schoolteacher named Sylvia Barrett and her first job in an inner city comprehensive school. Throughout the play, Sylvia encounters many challenges as she attempts to bring her classroom to life and inspire her students. "€œI think that both teachers and students will be able to relate to it, as both a drama and a comedy." said junior Miranda Maher, for whom this play is her first lead portraying Ms. Barrett. A large amount of time has already been put in the production of the set and practices. "€œ Rehearsals have been going pretty well. We'€™ve met a few challenges but I think that everything is coming along really well. I can'€™t wait for opening night to display our hard work for everyone!"€ Maher, described by many as born to act, is joined by senior Melissa Jones who portrays Ellen, a close friend of Sylvia. Jones describes her role as the character who stays close with Sylvia throughout and talks with her about what she'€™s doing and her life choices. Production-wise, Jones says that she is excited by the great enthusiasm much of the cast have shown towards the play. Junior Jamie Steyer plays Bea Schachter, a longtime teacher who tries to mentor the newcomer and make the transition easier. Steyer compares Schachter to Ames High's prominent English teacher/counselor Ginny Seibert. "€œBea is constantly trying to do what she can to help her students, just like Seibert."€ Steyer: "€œBea schachter sylvia'€™s mentor. a bit of an older teacher, knows the ropes. woolery and i have compared her to Seibert ie helping students constantly. When her students are happy, she'€™s happy. introduced everyone to sylvia, wants to think of everyone as one big family. key part of the cast when she tells sylvia to follow what her heart tells her. the inspirational one in the play. its not clear whether she had to give up her dreams but she thinks of everyone as her own child.
Leave a Comment
Your donation will support the student journalists of Ames High School. Your contribution will allow us to purchase equipment and cover our annual website hosting costs.
About the Contributor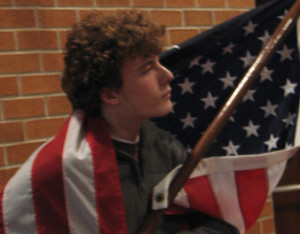 Christopher Jackson, Reporter
Christopher Jackson is a senior at Ames High School. A three-year member of the Web, he writes about student issues and has been compared alongside his...